There is no quicker, less costly way to jump into the new Season's buzz, which for 2012 is all about Color, than to start with Accessories.  My personal favorite accessory to step it up a notch is a great pair of Shoes in the boldest hues of the Season.
The newness in Shoes for Spring and going into Fall 2012 are that shoes are lightening up a bit.  They are more refined and lady-like and less clunky.  Pumps are #1, toes are becoming more pointed, soles are singular as platforms soften up and slim and sometimes bedazzled stiletto heels are the leading choices of the season.
Below is a sampling of some of the favorites I've found on the web.
Enjoy and maybe even make a purchase or two, which is now easier than ever, right here from The Chic Sheet (just a click away).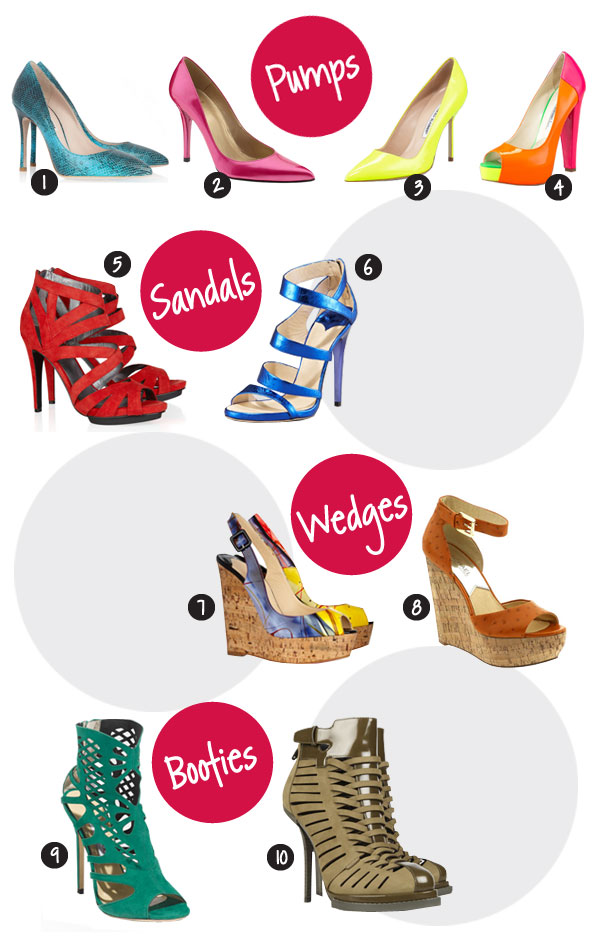 Pumps:
1.  Miu Miu blue python pointed toe
2.  Stuart Weitzman hot pink patent
3.  Manolo Blahnik canary yellow patent
4.  Brian Atwood; color-blocked, bold colored patent leather peek-a-boo
Sandals:
5.  DKNY red suede dress sandal
6.  Jimmy Choo metallic cobalt blue dress sandal
Wedges:
7.  Christian Louboutin bright colored print fabric on cork wedge
8.  Michael Kors tangerine suede & cork wedge sandal
Booties:
9.  Jimmy  Choo kelly green woven suede peek-a-boo bootie
10. Alexander Wang neutral suede peek-a-boo spring bootie