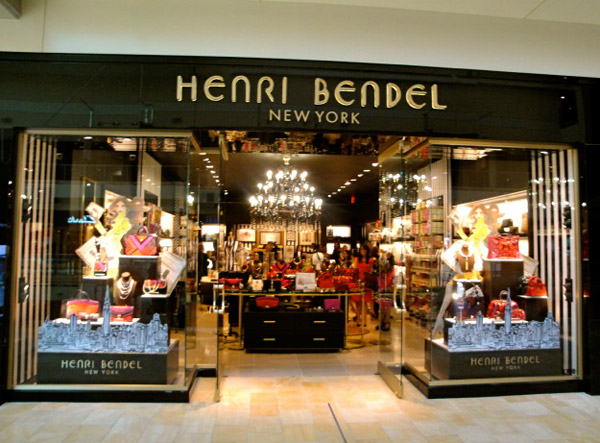 Henri Bendels opened in Houston on June 22nd to the public with a fun party that evening that over 300 attended.  However, there was a press review first, where I was fortunate to get to chat with the President of Henri Bendel, Chris Fiore.  He's relatively new to the company, only a year, but comes with tonnage of stores and expansion experience, which will be put to good use when this NYC icon of a store, which opened #23 in Houston, and continues its plan for 100-150 globally.  The new Creative Director is Pina Ferlisi who will be responsible for creative, design and artistic direction for the brand.  She comes from McQ, Alexander McQueen's step-down division and has, like Chris, worked for many great branded operations from Coach to Gap, Tommy Hilfiger and  Marc by Marc Jacobs.
Chris kindly toured me around the store with assistance from Store Manager, Tess Hall.  My first question to get the story straight for all of us Houstonians……is it Bendels or Bendels, with an accent on the end? (ok, like San Felipe or San Felipe?).  His response was simple, Henri Bendel was not French and as long as he's been there its been Bendels….simple, no accent on the end!  Got it?!  Many people have asked me that question. Also some insider tips and also some general Bendels trivia from Chris.  They have expansion plans for the U.S. and Canada first, Middle East next, Asia and probably lastly Europe….wants to give them time to get that Euro straight.
Henri Bendel trivia note: That Henri Bendel was the first retailer (they were founded in 1895) to bring Chanel to America, hence you will see a lot of Chanel influences in their products.
Now to the store. Located in Galleria II, almost next door to Apple. As a picture can tell a thousand words, I'll let the product photos below peak your interest enough to go in for yourself and take a look.  Think Brown & White Stripe influences as much as possible and unique Jewelry, Handbags, Scarves and all categories of Accessories and Gifts that are exclusive to this store as most of it is private label….created by Bendels for Bendels….you won't see it anywhere else.
Enjoy the photos, stop in and visit with the friendly, helpful associates and enjoy your time in town……
The following are mostly product, shown with a little help from a few fun peeps. On the left, fellow Houston bloggers, Lindley Arnoldy from The Flip Side and Annina Stefanelli from Cinched at the Waist modeling what else, but the iconic stripe shower cap and Tess Hall, Store Manager on far right.