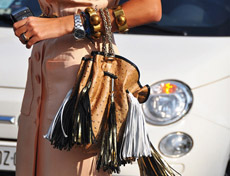 Always a lover of tassels on just about anything….I have had them in my home and worn them throughout my accessories.  Any item that came "tasseled" got my attention!  Well, needless to say, I could not be happier than I have been this Spring when tassels began to show up as a fashion micro-trend (that means it wasn't huge, but could be seen around just as subtle touches). Accessories such as handbags, jewelry footwear, some apparel and many home objects are carrying this sophisticated, elegant adornment.  I'm not really late in telling you about this now as I feel that tassels just feel better as a Fall trend anyway, and I see this trend carrying over into Fall and even expanded upon with the addition of fringe as another trim idea.
As described in the fashion blog, Asian Fashion, it was noted that what was once known only as a slight luxury adornment has gained prominence in the fashion spotlight.  This look goes back to Medieval times, as an art form that denoted class and influence. Tassels adorned tapestries, clothes and even military uniforms.

This centuries old form of adornment, has returned subtly on the runways as luxury and opulence are returning.  Tassels, as a trim to a garment, shoe, handbag or decorative pillow give the feeling of sophistication and quality in the finest silk or leather, without the noise of bling and glitz. While they have always been a constant in the world of Chanel handbags or men's leather loafers, what's new is that they are now more prominent, over-sized, can be brightly colored and are appearing on shoes, booties and belts.

What I am also wild about is their appearance in jewelry, particularly in the form of tassel earrings. These earrings have been a popular style by Houston jewelry designer Katie Decker in her latest collection and seen on many women from the Kate Hudson, example on the red carpet, to my friend, Carol Sawyer at last evening's party. I predict that tassel ears in pearls and semi-precious stones will become a must have accessory on the dress-for-evening scene.
Whatever your preference, after all your personal style comes down to the details, the selection for Fall is endless.  Whether tassels are your choice of adornment on bags, shoes, jewels or belts….they are just the right touch of sophistication to make that item a stand-out in any crowd. Also, they can be a great addition to the classic dress or apparel pieces in your closet, that provide the canvas awaiting the opportunity to be tasseled!
As Fall begins to enter the stores, tassels will be joined by their sister-idea, fringe, which is already being called out as a must-have to watch for as it gains importance for the upcoming season…for me, it's sheer excitement…I can hardly wait!
Images courtesy of:
http://tinysparklythings.blogspot.com