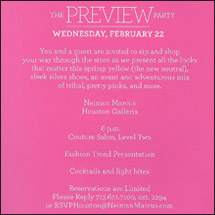 Neiman Marcus Spring Fashion Preview Party
To all curious fashion fans out there, the Spring 2012 fashion show and trend presentation presented by Roz Pactor of The Chic Sheet along with Stacy Swift, & Neiman Marcus is having a preview party to show off all their new must have looks for the Spring! Time to get a sneak peak of what's in store at Neiman's as the season takes a turn to the sun! The event will be taking place on Wednesday February 22 at 6 PM at the Neiman Marcus store, Level II in the Houston Galleria. Libations and light bites will be provided.
RX Skin Therapy kicks off 8 weeks to beautiful skin!
The Chic Sheet is co-sponsoring along with RX Skin Therapy an event on Friday, February 24th from 9AM to 12PM at the Houstonian. You might not be familiar with the new RX Skin Therapy; well this is your chance to find out what it can do for your skin. Participants will receive a complete skin care regimen, including refills & instructions on product use. All you have to do is commit to using RX Skin Therapy for 8 weeks, and  provide feedback  periodically along with attending the wrap up event at the Houstonian, which will be held on April 25, 2012. Unfortunately this workshop is sold out however if interested in being on a cancellation list please visit info@rxskintherapy.com
P.S.  Fashionista's – I will be doing a Spring fashion overview with the latest merchandise from Neiman's at the workshop also!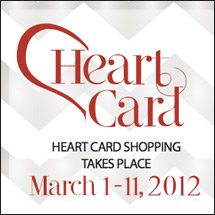 Title: Heart Card Benefiting American Heart Association! Spring Fashion Show & Preview Shopping Party February 29th!
It's always the season to give back, and what better way to give back & support the community than to shop? The Heart Card-shopping event will take place from March 1st to the 11th and all Heart Card proceeds go to the American Heart Association. This is your chance to save money at some of your favorite stores. You can purchase your Heart Card online right Here! Adding to the festivities the first 500 Heart Card purchasers to reserve their spot are invited to attend the exclusive 3rd annual Heart Card kick-off event! The River Oaks Fashion Show on Wednesday, February 29th from 6:30 to 8:30 PM at the River Oaks Theatre.
Me and My Red Glasses Provide Fashion Insight on the color RED on Mirror/Mirror
I am so excited that the segment I filmed with Rebecca Sperra for the Live Well Network show Mirror/Mirror is going to air this weekend.  You can catch the entire episode on Houston's ABC 13 Sunday night at 10:35pm, or you can check livewellnetwork.com for local listings if you are not in Houston.  As a special treat, we got our hands on the segment, which you can view below!