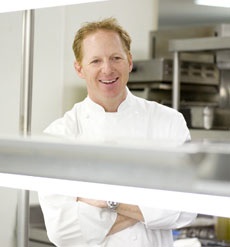 In our second attempt at profiling another of the many talented chefs that make Houston such a sensational restaurant town, I've selected Michael Kramer of the Tasting Rooms.  Michael is not new to us, as we all remember him as the new chef in town, back in 2007, when he brought his own unique culinary trends to conceptualize Voice, the restaurant in the then new Downtown Hotel Icon. There he received much recognition by both national and local press as one of the "best restaurants in Texas" and also a few "best in Houston" accolades as well.

His newest venture, which he began in July 2010, was to use his innovative techniques to modernize the kitchens and menus of the existing Tasting Rooms and conceptualize once again, what will be the signature restaurant of the group, the new TR that just recently opened in City Centre. His work there is dual, to oversee and elevate the menus of the existing Lasco Enterprises Wine Bar/Restaurants that include the Tasting Rooms and Max's Wine Dive. He also oversaw the planning of the City Centre location and the installation of a new wood-fired pizza oven.
To fully capitalize on that, Kramer and his sous chef completed training and were certified at the VPN American Pizza School in L.A., where pizza making is taught the Neopolitan way, which is renowned as the best type of pizza in the world. I sat there at the City Centre bar (longest bar in the city!) where Michael actually demonstrated the process for me, allowing me to actually learn something and enjoy my favorite pizza, and oh so tasty it was! I also learned after my visit that City Centre TR has a first-in-Houston feature, a self-serve Enomatic wine dispensing system, that I recently saw in a small Tuscan town in Chianti, Greve, this November. I was so impressed with this "fine wine on tap" that I took a photo of it in Italy…..so awesome!

Now about Michael Kramer, the man.  This L.A. native, born in England and is self-described as a picky eater as a child (he's outgrown that), studied at the California Culinary Academy in San Francisco. His practical education where he learned his craft was at such well-known food establishments as La Folie in San Francisco, Spago in L.a. and The Mansion at Turtle Creek in Dallas.  He describes both his culinary and personal style as Modern American with French and Italian influences. His food is simple and his apparel both for work and play, the same

Of course, remember I'm a fashion blogger so we had quite a discussion on what he chooses to wear to work and why. His modern look consists of a short-sleeved seersucker shirt (first for me, I liked it!), black chef pants (that translates to very loose cut), black and white pinstripe apron and clogs for comfort.  On his time away from work, he does eat out some and mentioned Haven and Catalan as two of his faves. Michael's favorite brands of clothing are Lucky Jeans, Kenneth Cole and a Gucci or Prada piece here and there.  That's his dress-up wear, as many off-hours, he can be seen in his cycling garb, which he of course, takes as serious as his riding.
Michael is quite an accomplished athlete in the sport of cycling. He has been a member of the Shama Cycling team, where he competed in years past and spends a lot of his spare time away from the long days at the restaurants, cycling at least 3-4 times a week. We are talking a serious hobby here, 25 miles in the evening and on a good Saturday, 60 miles!  He also cherishes the time with his son Evan, who he enjoys cooking for at home and loves jaunts to the bark park with Buddy and Roxy, his loyal four-legged companions.
When I closed my interview by asking Michael, the athlete, if he was a fan of any particular sports teams, he said no, not really. He would watch Notre Dame football if it's on the tube…that's about it!  I asked if he had an opinion on all of the craziness of March Madness and did he care who won, and the answer was also negative.  The message I got was clear, this man is focused! He has two passions, cycling and food. Not a bad combination…keeps this Modern American Man, slim, fit, relaxed and very cool!