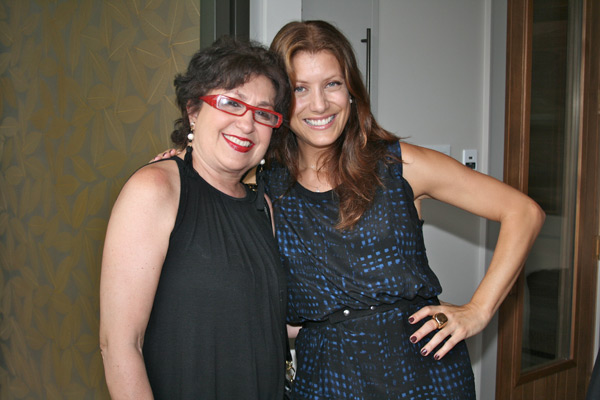 I was thrilled to have the chance to visit with Kate Walsh, actress, business woman and activist at the VIP evening party for the Celebrating Triumph Luncheon for the Center for Success and Independence that was being held the next day, May 8th. For those of us that are die-hard Grey's Anatomy fans, she is Dr. Addison Montgomery of G.A./Private Practice fame and could have been such a bigger than life character, but was instead such a down-to-earth, fun, and genuinely cool lady and the crowd loved her!
About Kate Walsh:  She could not have been a neater gal. So hip, and honest that she made you feel like you were chatting with a good friend.  She was full of enthusiasm for all that we discussed…first, her reason for being here. She said she had been here last year, was familiar with other Texas cities and loved Houston, especially the Heights area where the party was held (she said that!). She said she wanted to support the center because she was impressed by their success rate. This was a casual, informal affair but we did talk a little fashion shop. She is thrilled with how well her fragrance, Boyfriend, is selling. It is now in all Sephora locations, and for those of us that know how that works, that is no small feat, plus she was heading on Wednesday to do her stint on the Home Shopping Network for her fragrance as well. I was crazy for her flat booties that she was wearing (look closely in my photo with her below as I ensured we got them in). They were Chloe studded leather.  Her dress was Isabel Marant and when I said I was in love with that designer's clothes, she quickly quipped, "OMG, I am OBSESSED with her," and looked just great in it. Let me also say that the dress was navy and black, which as a color-combo is my current obsession.   What a delight she was….the coolest!
About the Event: The Annual Celebrating Triumph luncheon, this year co-chaired by Katherine & Bill Phelps and Luvi & Carlos Wheelock, and emceed by our local ABC gal, Rebecca Spera, was held at the Houston Country Club, and honored famed Houston stylist, Michael Kempner.  The proceeds from this luncheon benefit The Center for Success and Independence, an organization providing comprehensive, compassionate and quality treatment to youth, and their families with behavioral, emotional and addictive disorders.
To learn more about this organization and all of the wonderful things they can provide to youth in need, click on their website, http://tcsi.org/.
(photo credit: VIP party, Photo Boutique; Luncheon Fulton Davenport, PWL Studios, Houston)