It is with great pride that I can talk about my friends, Tony and Phyllis Mandola's journey that has taken them from their "miracle" location to their "dream," of a stand-alone restaurant of their own. The opening of their "French Quarter-inspired" restaurant on Waugh Drive is a fulfillment of a life-long journey for this family.  It's a beautiful crescendo to a legacy that they have built together of serving great food and warm hospitality, at various locales, for close to four decades (hard to believe?) in the food business.
This new location, for the Mandola family, is only less than a mile from the River Oaks location that was their home for so many years, and just minutes away from their "Miracle" spot that has been their popular temporary home for the last six months.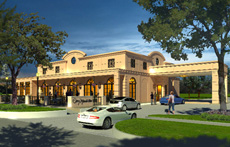 The immediate reaction that hit me upon entering the new space was its expansiveness and openness. It's 6700 sq. ft. and seats 225 people. It has many new amenities, such as a much larger bar that includes banquette seating, an open dining room, expanded patio dining and two private rooms for special entertaining or business meetings.  One of the most important additions for Tony is that their kitchen is now 70% larger.  All the room they need to cook lots of their great gumbo, signature seafood dishes and of course, it must mean lots more room to toss my personal favorite, the Cajun coleslaw!  A new add-on for the restaurant is the addition of a brick pizza oven, so now for the first time, you can have pizza here and not just your basics but a special "gumbo pizza" that has been developed and must be tried! I have mentioned many of my favorites that I have eaten consistently over the years and somehow taste even a little better in the new surroundings. As Tony says it, "It's honest food; not too fancy, a little bit comfort and kind of special."
I must also mention how proud I am of my friend, Phyllis, resident  interior designer, and all of her touches that make the restaurant not just larger but definitely more decorative with her choices of porcelain tile and red marble floors, and use of dark copper tiles in the bar area, to name a few added touches.  Phyllis has been quoted as saying that "it's an evolution of the familiar Tony Mandola's atmosphere, maintaining the same comfortable feel and warm energy of the original location while giving our guests a great new space to explore."
In closing, I must say that I am very proud of mi amici or familia as we prefer to call them.  Like my family, they grew up in the food business and come from great stock in that department.  Tony, whose Mom, matriarch Grace Mandola, has been the inspiration of many great restaurants within her expanded family and Phyllis, daughter of Ninfa Laurenzo, an icon in the Mexican food arena, has seen the same through her descendants and the carrying on of her legacy.  Of special note to me, was to walk into the new restaurant and see these two remarkable women's photos at the front.  Tony & Phyllis sum it up best, "Tony Mandola's is dedicated to the preservation of the art of our Mamas' cooking".
Tony Mandola's opened on June 29th and  is located at 1212 Waugh Drive. Hours of operation are Monday thru Thursday 11:00 am till 10:00 pm, Friday & Saturdays from 11:00 am till 11:00 p.m. and Sundays from 5:00 pm to 9:00 pm. For more info, please call 713-528-3774 or visit www.tonymandolas.com.