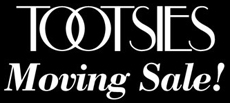 In case you were wondering, the good news is that TOOTSIES is still very much in business and back to business as usual.  The even better news is that the store is chocked full of amazing buys…you can save up to 80% on clearance items, but you had better get in there quick. They won't be around long. The prices are unbelievable!  This is their Moving Sale and owner, Mickey Rosmarin and his buyers will not to move these clearance items when they head down the street to West Ave. in a few weeks.
BTW, if clearance is not all that you're into…you've been there and done that!  Remember, there is a lot of new Resort and Early Spring deliveries that have hit the Tootsies floors and are ready for the gal who wants to be ahead of the game. Newness of the season is coming in every day, so your choices are many when you walk thru those doors.
Have fun and share the experience!