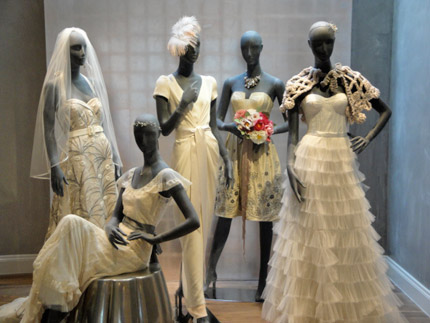 Brides and everything Bridal are all the rage these days and Anthropologie has made its entry into this very special-occasion-dressing in their very own way. As I said when I toured their newest venture and exclusive premier of the concept store, BHLDN (Beholden from the Dutch word "to keep") in Houston's Highland Village…the entire space and its lovely wares were all "so Anthropologie!"
Because this concept was developed by the Anthropologie team, its entire feeling of one-of-a-kind everything runs deep.  There is a definite attention to all details that surround that special day and is both created and displayed in a way that exhibits that "tradition with a twist."

They catch your eye, even as a drive-by, with their enormous, playful swan window display that must be seen live to appreciate, and the building that houses it all is cleverly set up in a progressive manner. The entry and first room is all about apparel and artisan accessories for the attendants and the special lady for her parties and fun gatherings.

The second room is chocked full of all of the fun necessities to make her parties unique in every way.  Not your basic stationery haunt, there are everything from bold colored invites and party décor to unique "day-of" decoratives from china and silver, cake toppers, linens…all with an heirloom feel.

As you make your way back to the final rooms that are just for the Bride, it is apparent that their goal is to provide ALL of the stylish necessities that will make this occasion satisfy her every wish.
Of course, for the crescendo, the final room displays their selection of "the dress," from simple sophistication to vintage-inspired long and short gowns with an infusion of a capsule collection of separates that allows each bride to make her own!  All priced from $800 to $6,000. They also have there for the choosing, lingerie, collars, wraps, hats, footwear and headgear…from bold flower pieces or rhinestone bands to fascinators with short veils and one very special body veil.
This new fresh, young concept for Bridal, for which Anthropologie has chosen Houston as its launch city, has one goal…to give each bride and her closest fam (that means you, too, Mom!) and gal friends a place to go to do it all and have fun while they're doing it!  Enjoy the experience. To learn more, visit www.bhldn.com.