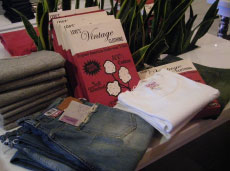 Is there any name more  synonymous with denim in America than Levi's?  They started it all 75 years ago and the news now is that they're back and they are hauteur than ever in the fashion and celeb world.
The "L-buzz" had begun to creep back into fashion as I noticed Levi ads in all of the fashion mags, particularly the War & Peace length versions of September issues. It became real for me when my bro came in from L.A. wearing a great pair of vintage skinnies that I immediately noticed and asked what brand and was pleasantly surprised to hear that they were Levi's.  However, it didn't really hit me that they had become big fashion news again until I walked into the trendy boutique, 310 Rosemont and saw a major visual display featuring their newest and greatest, Levi Vintage.  Levi, has been smart enough to go back to its roots and pull out it's best styles from far away decades like the 30's, 40's, 50's (310 even has a pair from their made-for-farmers-days, 1856, (kinda pricey at $600+) and recreated them, making them the hottest look of the season.  After all, there's no bigger trend these days than Vintage, so when you combine America's brand with Vintage you can't help but have a winner!
These select styles in Vintage along with their high-end fashion styles they've named Made & Crafted, are only available for us girls at 310 and at Barney's Co-op (soon to go away, boo). Guys can be found at Saks.  The looks are all there…straight, skinny, boot-cut. The washes range from antique finishes to dark denim to black!
For me, whose retail roots are heavily weighted to department stores, remembers vividly the times when, as Visual V.P. at Foley's I was part of the team that oversaw the invention, rather radical at the time, and a huge challenge to execute, of what was called the Levi Jean Wall. They started it all and now Jean Walls for Levi and many other brands have become the norm and the perfect backdrop for denim in stores all over the world, no matter the store size.  Those walls were about basics and they still exist in a dominant way in Macy's stores here in town, but the newest fashion news for Levi now is that they have stepped out and taken command of the "designer high-end fashion business" in jeans, as well!
With what I saw at 310 Rosemont, they have won back their right to be called Fashion Denim………..and not just because lots of celebs have jumped on the band wagon and are wearing and loving them all over again but also because they look right and carry that very important name.
I must say I will be making my purchase and wearing them proudly when I head across the pond to Italy at the end of the month.  I can recall the excitement of my Italian exchange student, three years ago, who was so delighted to see that we had Levi's (Leveees, as he called them), that he wrote his Italian friends and brought them all a pair back home when he returned from America!
So if you're ready for a fashionable step back in time, stop by 310 Rosemont and see their broad selection of Levi fashion styles, again both in Vintage or Made & Crafted. Prices vary around the $200 mark, but remember there is Holiday Shopping Card only moments away!
Where to find:
310 Rosemont
1965 West Gray
River Oaks Shopping Center
(713) 522-8133
www.310rosemonthouston.com