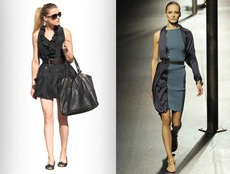 As summer is approaching, footwear focus needs to be on comfy chic-ness, cool-ness (temp, of course!) and just the right choice for the things you need for running around in to those places where going barefoot just won't work.  Some of my fave suggestions for casual wear is to put the stilettos and super-high wedges down (not away) for a moment of rest and turn to those styles of shoes that will keep you well-grounded.  Flat shoes, a look that I love with all of the comfy summer fashions that have already been suggested on TCS….maxi dresses, long skirts, cropped pants and short shorts, skirts and dresses.
These styles that I have chosen to call flatliners…..are flats that come in two ways…..one is in the newest styles of the classic ballet flat and the other, the opened, strappy and in many cases,  embellished in a great variety of flat sandals.

First, let's talk about the Ballet flat…always the perfect accompaniment to cropped pants and shorts.  Tory Burch is still the leader here with her Rena Ballet that seems to never go out of style and her newest, non-logo flats that look the freshest and are a personal fave of mine.  I believe it was Juicy Couture that started the elasticized, soft, pliable ballet a few years back that is now becoming all the rage as well.  However, the message in making the right choice in ballet is simple…..anything goes , round or pointed, fabric or leather, color or neutral.  The Ballet Flat has become one of those items that you can and should own a wardrobe of!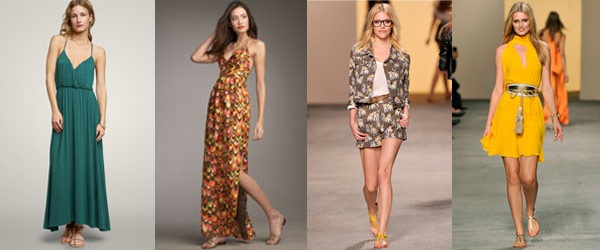 Next is the sexy, strappy flat sandal, a must-wear with the longer length dresses and skirts from pool-wear to out-to-dinner wear.  They are the next best thing to being barefooted and are great for showing off that hot (orange maybe?) new pedicure nail color you had to try!  The variety in price, simplicity or over-the-top embellishments, color or fabrication are endless.  They look best when teamed with a long flowing Maxi dress or skirt but as those legs tan up are just as haute with shorts, short skirts/dresses and cropped pants. Prediction from The Chic Sheet is the uniform of the summer will be a maxi dress or skirt and open, flat sandals…….there is nothing more comfortable, fashion-right and flexible.  Only requirement, ladies, is to keep those toes pedicured and looking good…there's nothing worse than that oversight?!
Did I mention that these styles can be found in plentiful supply at all price points from the very fashionable high-end designers to DSW, depending on your budget!