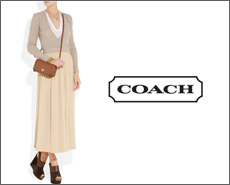 If you are a retro-gal and love many of fashion's return-to-the-70's styles that have been such an influence this past year, you need to know that this summer the Net-a-Porter.com online site, partnered with Coach Handbags in the re-launch of a select grouping of five of their most iconic styles from their Classics Collection.
For many of you, like myself, whose first designer handbag was from this American heritage label, you will find many of your favorite memories resurface from Bonnie Cashin's designs famous for their timelessness and fine craftsmanship.  The styles chosen were the bucket bag, a hobo, a small shoulder bag, a duffel and a briefcase.  All of these bags are back again in that same thick, unfinished cowhide that was Coach's signature, along with its vintage turn-lock hardware. Holly Rogers, the buying director of Net-a-Porter, explained that "The Coach bags complement the current retro trends, including wide-leg denim and stack-heeled sandals. However, they are so versatile that they will continue well after the 70's trend has faded."

If you are like me, your purchase can be made quickly from the far corners of your closet (that's a good thing, as this new collection does not reflect the '70's price points!).  I am one of those fashion people that held on, as I have my LVs and Gucci's, and would do my own resurfacing of my favorite styles every few years, particularly the bucket bag!  In fact, it would be fun to know from many of you, if you did indeed hold on to these classic bags…please let me know, I'm curious!
Reed Krakoff, who has added his own stylish namesake brand of accessories and clothing to the fashion scene this past year, has continued with Coach as it's current Creative Director and oversees masterfully, the production of a much more varied, fashion collection that's focus has still remained on great workmanship, quality and durability.
Have some fun and visit this exclusive collection on Net-a-Porter.com for a step back in time!