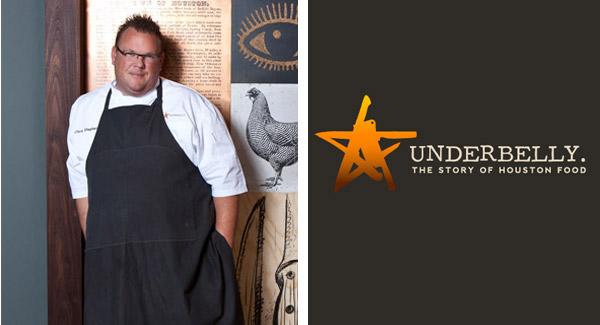 When I visited Underbelly, Chris Shepherd's newest and first of his own, eateries last week, I had to be very persuasive to get in and was told since they were so packed that we would have to sit at a front community table, but was assured by the very nice, accommodating maitre' de, James, that it would be a fun experience because we could be right up there at the open kitchen and could really watch Chris work.  Well, it was a great experience.  We sat between some fun people, the energy was contagious throughout, especially in the main dining room that was both spacious and homey.
You're given a menu that first shares Chris' philosophy on the importance of blending food and local culture and that his food selection, which changes daily based on local availability, is based each evening on the diversity of our city. He boldly says on his menu that "If you don't like Houston, you won't like Underbelly."
We had our waiter advise us on our selections so as to ensure that we had a true sampling of many of Chris' known specialties and also this diversity that is unique to this restaurant.  The way the menu works is that you have a selection of approximately (3) entrees that at least two people could share and the other whole side of the menu is tapas/appetizer sizes.  Everyone at our communal table told us we must try the Korean Braised Goat with Dumplings.  It is the most popular item on the menu and I must say it was amazing…..my only complaint was that I was left begging for more.  I assumed that to be a great example of his well-known whole animal cookery.  Other treats for us were the oysters, the warm rye bread and I loved the mixture of the charred fava beans served with one of my favorite, and not always easy to find cheeses, Burrata and some grilled bread.
I would say that it will definitely take a few visits to Underbelly, and I must  go back soon, just to try all of the different options because, as Chris says, his menu is as diverse as this great city we live in, changing daily…a little bit Asian, a taste of gulf seafood in oysters and crawfish, lots of meats (meat market on site)….lamb, flank steak (I viewed across the table and it looked divine) and of course, pork many different ways.
It was sincerely a treat and one that I will be back to partake in very soon as it must be experienced to get it!
Visit www.underbellyhouston.com for more info.