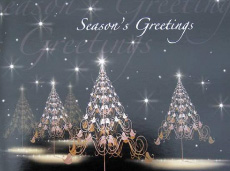 It's the time of year when it's CHIC-est to give love, gratitude and warm wishes to our many friends of The Chic Sheet Blog that follow us throughout the year. To ALL OF YOU, we wish the
 bests of life for you and your families.
We'll be out of touch for just a couple of weeks, as we take a rest, recharge for the New Year…and most importantly, I have a wedding in NYC to attend!
Love and Good Cheer to all,
Roz