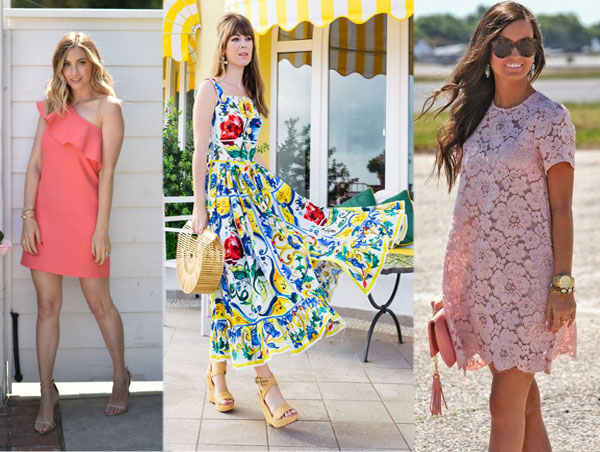 It's that time of year again, folks! And that time I'm referring to is wedding season. Julie here today, and I bet many of you have a calendar full of weddings coming up over the next many months. Surprisingly, this year I don't have any on the docket, but in the years past, I've had tons (including my own!).
Weddings truly are so much fun. I mean what is better than celebrating love with those close to you? It's the best. However, one thing that can feel a tad stressful is the big ol' question of what to wear?
It's pretty straight forward other times of the year, I feel, but when it comes to spring and summer, it can get a bit confusing, and your decision for what to wear will have a lot to do with, not only the attire of the wedding, but where it's located, if it's inside or outside, so on and so forth.
Here are some tips to think about when selecting a dress for a wedding you have coming up this season:
If it's on the beach, do not, and I repeat, do not, wear heels! The last thing you want is to be wearing a high heel in the sand. Instead, opt for wedges or flat sandals (just make sure the sandals are dressier than your rubber flip flops you wear to the pool).
Even though it's the time of year when white is everywhere, I'd steer clear of the color. Personally, I didn't necessarily care if a wedding guest wore white on my wedding day, but traditionally, as a guest, you shouldn't, and many brides would prefer you did not. So, as much as you want to wear that adorable white dress you just bought; save it for another function. 

Think in color. Even if you're prone to wearing black, white, and grey (guilty!), this is an event where you can step out of your comfort zone, and throw on that coral maxi dress you never wear or that printed dress you have been waiting to pull out for the perfect occasion. Spring and summer is all about color, so don't be shy.
Depending on where the wedding is and at what time, it can be very hot in the sun. You'll want to go for breathable fabrics that won't show sweat stains (i.e. silk may not be your best friend for the situation). Form fitting might also be tricky. Think flowy, somewhat loose, breathable pieces.
On a similar note, bring a shawl if the wedding is outside (or if you're unsure it's outside). While it can be extremely hot in the sun, as soon as that sun goes down or behind a cloud, it can get chilly. Having a shawl will help you feel comfortable all night long.
In terms of accessories, sometimes less is more, especially if it's hot outside. You don't want to be wearing a chunky, heavy necklace that is causing you to sweat profusely all evening.
Now, I've put together a few spring and summer wedding appropriate looks along with a bunch of picks that you can easily shop below, so keep on scrolling.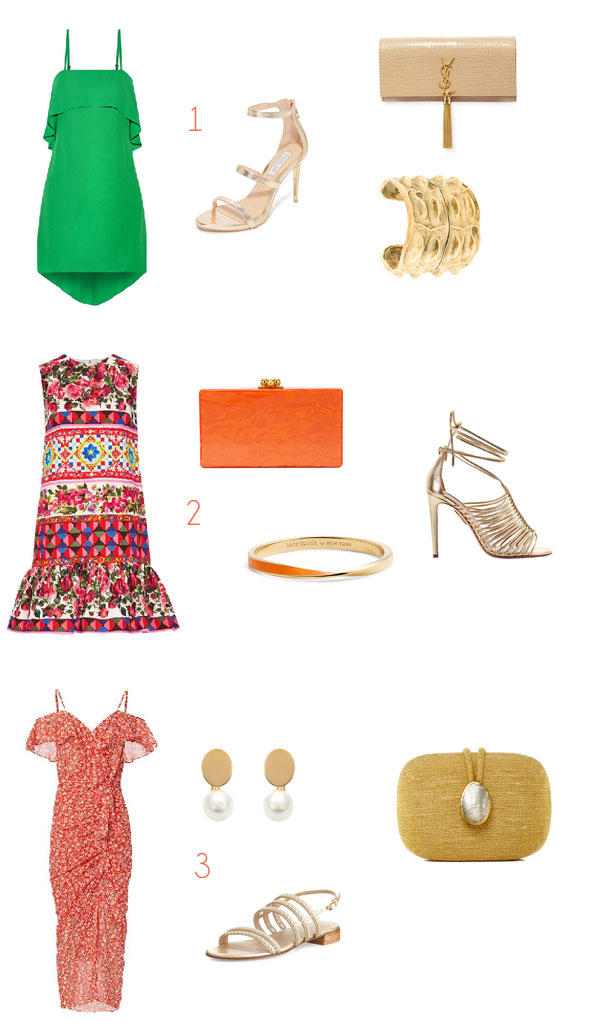 1. Alice + Olivia Layered Asymmetric Mini Dress / Rachel Zoe Viv Sandals / Saint Laurent Crocodile-Embossed Clutch / Saint Laurent Textured Cuff
2. Dolce & Gabbana Ruffled Cotton Blend Dress / Edie Parker Clutch / Aquazzura Strappy Gold Leather Sandals / Kate Spade Enamel Bangle 
3. Veronica Beard Cold Shoulder Dress / Chloé Earrings / Stuart Weitzman Braided Chain Sandal / KAYU Clutch
Do you have any weddings coming up this spring or summer? Have you decided what you're going to wear? Let us know in the comments below.
Feature images borrowed from Cupcakes and Cashmere, Margo and Me, Pinterest (unknown)