It's not all just fashion chatter from the runways about longer lengths are in again in skirts and dresses.  Consumers are actually happy about this idea and are purchasing them at retail. So, I predict that the fave item of the summer season will be the return to the Maxi Dress. It works in so many ways…..sophisticated or fun, print or solid, by the pool or out to dinner and for all women of all sizes, it's the easiest thing to wear. Let's face it, summer is upon us and in Texas or just about anywhere you spend your time, summertime heat is all about comfort and ease of dressing……the Maxi is the perfect answer!
Also, there is nothing that will make Mom smile more than a new longer length dress. It's a safe bet…you just can't go wrong! The beauty of this trend is that it not only works for Moms but is the solution-extraordinaire for the darling Mom-to-Be that you want to gift with something that will help her survive her condition in the summertime heat.
Styling Tip: If accessories is always a choice you feel appropriate for Mother's day gifting, then add that to the package. A Maxi Dress is the perfect canvas to show off many of this seasons hottest accessory trends.  Long necklaces, layered of course, a natural that elongates the figure, fun earrings and lots of bangle bracelets, whether Bo-Ho Chic or just shots of Color, are all great additions that will make Mom look like a trillion dollars!  You can even add a wide brim hat, the newest sunglass shape and the perfect flat sandal or espadrille wedge and the look is complete.  Fear not, you need not break the bank for dear sweet Mom.  Chances are she already has many of these items in her accessory wardrobe and only one or two updates may be all that's needed.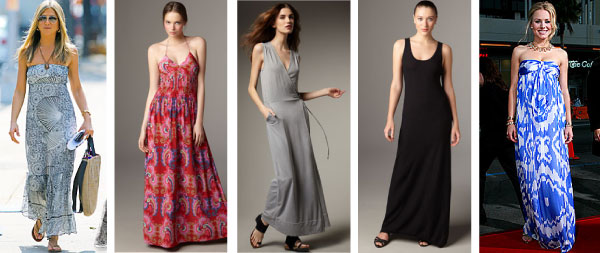 If you're like me, you do most of your shopping for yourself when out purchasing for others. So pick up one or more of these dresses for yourself…..trust me, it's a look you will wear and wear, A LOT!  They can and do go anywhere and can be found to fit any budget or style, from Tom Ford to the contemporary likes of Vince, Juicy or Tibi and even at Target for fun, play-around looks.
This is the summer of the Maxi Dress…not the newest idea, I know, I have been around, but women love them all the same and have definitely found a trend to wrap their arms around, just as you want to do for Mom!
Other fabulous gift ideas for Mother's Day:
Brazos Bookstore: If your mom is literary-minded, then stop into Brazos Bookstore.  They have a few signed first editions left from special events this spring including Fannie Flagg and Tracey Jackson.
Luke's Locker: If mom likes to run, then head into Lukes for some great deals.  Get $10 off any shirt with the purchase of any shorts, pants, capris or skorts.
Cotton Club: Spoil your mom (or yourself) with 20% off all Jewelry at Cotton Club, through Saturday.