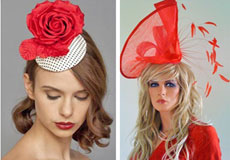 So, maybe you didn't make the official royal guest list or not one of the lucky media that is there recording history. You could be attending a viewing party with friends dressed to the nines, meaning fascinator and all, or maybe you're home alone just eating your scones and watching on TV.  Whichever way you are participating, you know that tomorrow is the big Royal Wedding Day and the ONE accessory that you will see repeatedly and in high variety is The Hat….it's just not proper to be without one if you are there.  As the Mayor of London declared in a statement today to the London masses, "Hats on, get dressed up, a Royal Wedding is upon us."
However, it should be noted that Hats have been one of the hottest runway trends this season and you don't have to be in Britain to enjoy them for many reasons, not the least of which is that Houston has finally become a Hat Town.  There are many more events each year that invite our ladies to don a special hat. The selections in stores have never been more exciting at all style, size and price levels.  Hats are definitely the fashion rage.  If you are like moi, and feel you just weren't born with hat hair, you have definitely been in the minority this season!

Hats have taken on a style and variety of their own.  Most popular with the ladies here, have been the wide brim and floppy version with adornments such as flowers, veiling, feathers and much more.  The prize newcomer, a London staple whose many versions have been adapted by Houston's own, Gabriella Dror and made famous by London milliner, Philip Treacy, for celebs such as Lady Gaga, the Royal family, including Ms. Middelton herself quite frequently is the Fascinator, that small usually circular version of a hat that is most often worn tilted to one side. Mr. Treacy, who made a personal appearance at Houston's Neiman Marcus last year drew large crowds of eager H-town ladies who had such fun after his hat runway show, trying and buying many of his special creations (see TCS Treacy interview).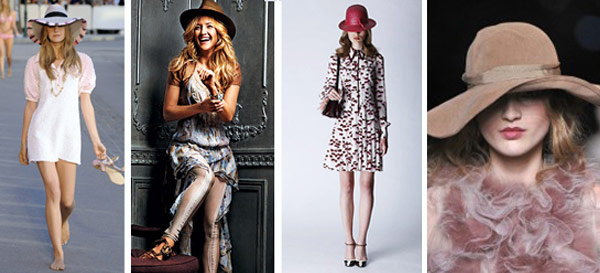 If dress up events are not on your itinerary, the casual hat of choice that looks great with everything from jeans to daytime dresses is the Fedora. Add a fresh dose of attitude to this long-standing hat favorite and you can wear it just about anywhere from the beach to the luncheon table (see Kate Hudson's fun take on this famed menswear style above).
So, if you missed this trend early on in the season there are still plenty great ones to choose from at stores such as Neiman Marcus, Tootsies and Saks.  It's not too late to purchase just the right hat for your viewing party or if you're more the practical type…summer heat and sun is upon us and what better way to protect that precious face of yours!