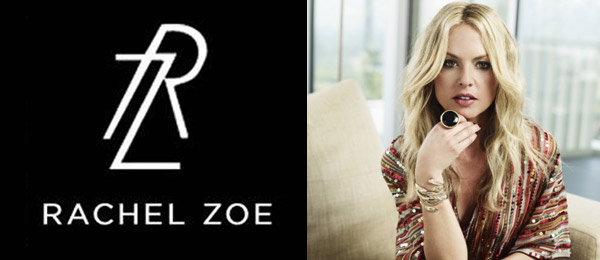 The newest project for celebrity stylist and the hautest-gal-around in the fashion world these days, Rachel Zoe, is the launching of her very own clothing line this Fall. The collection, initially pre-sold exclusively on Neiman Marcus online throughout July, has hit their contemporary department floors this month!  Ranging from $175 to $700, the line will also be carried online at Shopbop.com and at stores such as Bergdorf Goodman, Intermix and in Houston at our town's own Tootsies.
The line highlights her signature fur vests, delicate peasant dresses, and monochromatic pantsuits, and will also include those important wardrobe completers such as a fab shoe and handbag collection.  She explains that the line is all about affordable luxury and versatility, and it features classic pieces that are "on trend, but not trendy." Zoe describes her line as "uptown chic and downtown cool infused with Parisian elegance and London street style."  Zoe feels that the tuxedo pant in her debut collection should be a staple for any woman's closet, stating, "I'm really in tune with what makes a woman look her best and I can tell you that the silhouette of [my] tuxedo pant is something that elongates the leg–any leg."  The debut of her first-ever clothing line coincides with the fourth season of The Rachel Zoe Project on Bravo.  Women's Wear Daily reported that Zoe would love to include jewelry in her Fall 2012 line, so if you're a fan of Rachel Zoe, keep your eyes peeled for whatever she has in store for you next!
Who is Rachel Zoe: To fashion insiders and lovers of style, she is one of the single most influential names in fashion today.  After graduating from George Washington University, Rachel Zoe, born Rachel Zoe Rosenzweig, moved to New York City.  Eventually, Zoe landed in Los Angeles, where she became a renowned stylist for celebrities and other high profile clients.  Her clientele includes household names such as Anne Hathaway, Jennifer Garner, Demi Moore, Debra Messing, Nicole Richie, Keira Knightly, Cameron Diaz, Kate Hudson, Lindsay Lohan, Mischa Barton, and Kate Beckinsale.  Zoe had unprecedented success in red carpet dressing and landed her clients on countless best-dressed lists.
However, Zoe's career didn't end at celebrity stylist.  In 2006, Zoe collaborated with luxury handbag designer Judith Leiber for an exclusive collection.  In October 2007, her New York Times Best Seller book Style A to Zoe hit bookstores, providing information on "the art of fashion, beauty, and everything glamorous" to readers everywhere.  Then, in September 2008, her hit television series The Rachel Zoe Project debuted on Bravo, documenting high profile fashion shoots, fittings with her top clients, encounters with her designer friends, and exclusive events.  Zoe is also the contributing editor for Piperlime.com, Gap's online shoe and handbag retail site, where you can view "Rachel Zoe's Picks!"  Click on the video below to hear her stylish chatter about her and her philosophy behind her collection!