Willow Accessories Boutique is back and with it comes the return of Houston's talented style-maven, Jill Faucetta, who after a two year long hiatus, has gotten her mojo flowing again as she prepares for the re-opening of her new location on Virginia St. (you can enter Willow either from within the Brownstone or from an exterior entrance on Virginia).
Jill, one of the more talented selectors of great one-of-a-kind and uniquely high-styled baubles has pickings that have never looked better. (that's why we loyalists will forgive her for leaving us high and dry two years ago) She is all about statement pieces and has chosen metals in all finishes, crocodile, both solid and mixed in cuffs and necks, and ebony-wooden pieces from necks to clutches.  She has the look of fine, in colored gemstones, both in bold stand-alone pieces or mixed with metal. One of Jill's strengths other than the best cuffs in town, is also her collection of rings. She's a rings-girl and has them in all colors, shapes and sizes.
I could go on forever about the treat you have in store just by visiting her tiny corner of the world. The space is small and exquisitely pulled together in touches of sophisticated black and white that showcase her jewels in such special ways! Her presentation for opening is focused on jewelry but there are Handbags,(ask about the Birkin canvas bags in-store soon for mom & daughter!) Scarfs and Belts, all unique and on their way.  With Willow, it's all about the newness and limited quantities in select styles, so every visit promises new surprises!
To give you a flavor of Jill's many treasures, I have chosen a few of my favorites that I feel give you a feeling of her selections….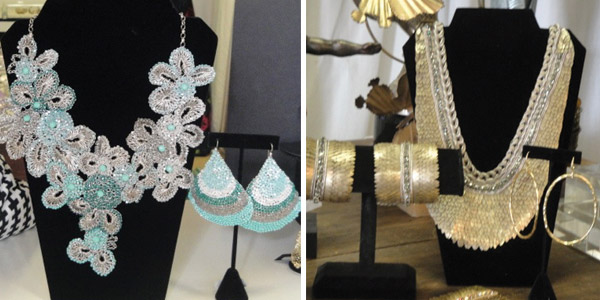 First, hand-woven turquoise beaded statement necklace with swaroski crystals and matching triangular beaded earrings. On the right, one-of-a-kind necklace of hand-woven silk golden threads in scale-like shapes, matched with to-die-for cuffs accented with swaroski crystal beading.(cuffs are on my wish-list)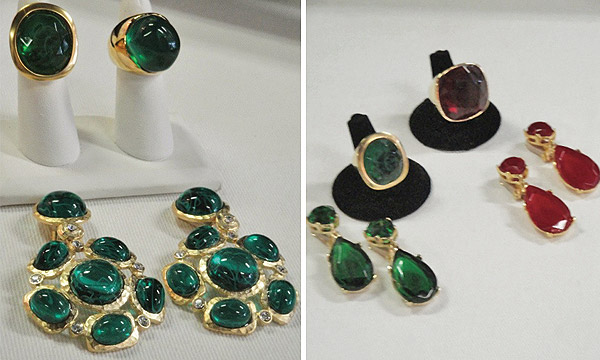 Next, is all about colored gemstones and the look of fine.  An emerald green faceted cut resin ring with clustered green and gold chandelier earrings. To the right, Willow's version of the infamous Angelina Jolie drop-dead Bulgari earrings from a Red Carpet awhile back. Those earrings have started their own trend and look fabulous from Kenneth Jay Lane in all of the rich jewel tones of the season…emerald, ruby, sapphire and amber. Accompanied by large "headlight" rings set in gold plate.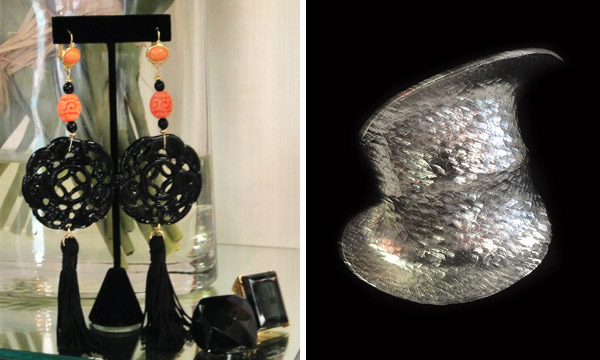 Willow's take, similar to that of legendary designer Ralph Lauren, on Asian-inspired looks is beautifully interpreted in this resin and tassel black earring with touches of coral.  For the modernist, the textured silver, multi-dimensional geometric large cuff, which I have already placed on my wish list as a must to wear with a simple black dress or cashmere sweater.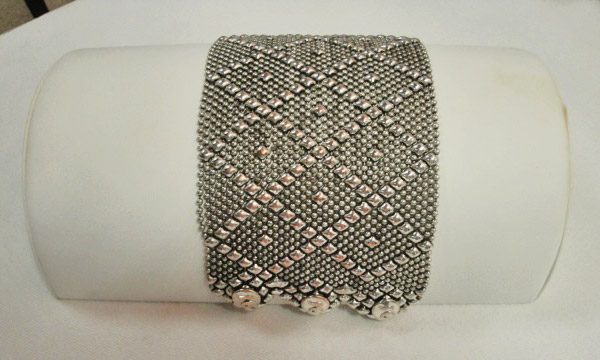 Speaking of my own personal wish lists, many that know me, know that I proudly sport my silver Liquid Silver snap cuff bracelet most of my waking hours.  It goes with everything and has been such a conversation piece for me that I could have sold it off my arms many times but there was no Willow and where would I get another one?
Well, we're back in business now and as a way to play catch up for all of those empty inquiries that I have had to bear for two years, Jill has agreed to give me an extra one of these bracelets to award to one of my readers.  Here's the catch, just "LIKE" myredglasses fan page on Facebook and leave me a comment so I know who you are and you will be entered in a drawing to receive this bracelet by October 15th. The value, at about $200, is too good to pass up….and I know you all like it, you've told me so many, many times.  So see you on Facebook!
Details:  Willow Boutique
2803 Westheimer (inside Brownstone, facing Virginia St.)
713-870-0270
www.shopwillow.com