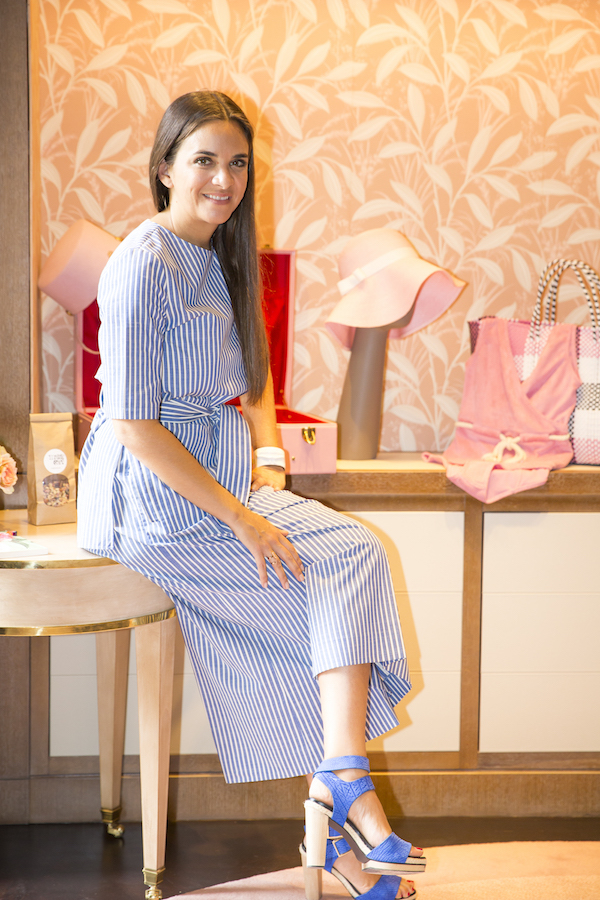 Laure Heriard Dubreuil, CEO and Founder of the Webster boutiques located in Miami, Houston and most recently Costa Mesa, California, has been tasked with curating her ultimate suitcase highlighting her chicest travel must haves for the newly opened Ritz Paris.
Laure has collaborated with over 10 brands to create exclusive product for the Ritz concept shop.  Some of the designers that have joined forces with Laure are Edie Parker, Aurelie Bidermann, Mark Cross, Sonia Rykiel, Tabitha Simmons, Gigi Burris, Maison Michel and several more.
The exclusive product range is housed within a specially designed corner within the Ritz Paris Concept Store, where guests will have the feeling that they have been transported into a Webster boutique. Laure has incorporated into the shop her signature vintage wallpaper and one of a kind apothecary jars and plush carpeting. She has also, in  addition to the collaborated items, created several limited edition items such as writing journals, iPhone cases, emery boards as well as whimsical luggage stickers and several signature pink flamingo items, all of which reflect Laure and the Webster's individual style.
This limited edition capsule collection will be available for six months from June through December 2016.
The recently re-opened Ritz Paris is located at 15 Place Vendome, Paris, France.  Webster products can also be found in their four stores or online at www.thewebster.us.
Le Galeria du Ritz Paris is a bright shopping Galerie in the spirit of Paris' covered passages. There are 5 exclusive boutiques and 95 showcases displaying the best of Fashion, Jewelry, Luxury watches, La Maison and high-end products. The Ritz Paris Concept Store is dedicated to the essentials of travel and Parisian keepsakes. The Ritz Paris also offers a premium personal shopping service, available for guests.
Photography by Adrien Levinger