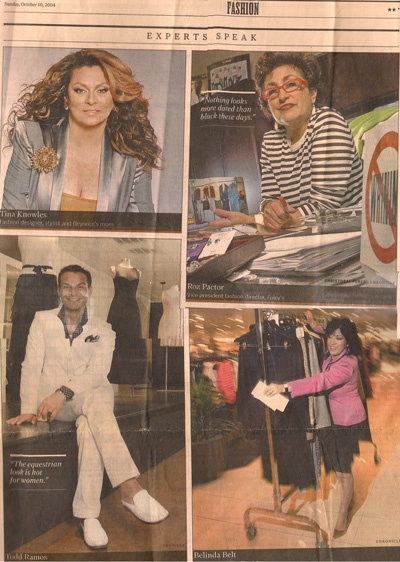 What is the look for fall?
Pactor: Color continues to be important, as well as dressing up more. Tailored menswear with a feminine twist for women. Color and stripes for men.
Ramos: The equestrian look is hot for women. Men are in their own world, and it's dressy meets casual.
Belt: For women, it's a return to glamorous femininity. For men, there is a return to elegant, tailored dressing.
Knowles: For women, lots of tweeds and tailored suits. For men, tailored jackets and suits and button-down shirts with cuff links.
. . .
If you had to have one item, what would it be?
Pactor: Short-cropped jacket or anything from the berry family for women. Striped or patterned shirts for men.
Ramos: Brooches and shrugs for women. Sportscoats for men.
Belt: Skirts, tweed fabric and fitted short jackets for women. Men will want to step out in stripes. Classic pinstripes for suiting; bold stripes in unexpected colors for sport shirts.
Knowles: Beautiful basic wool coats for women and men.
. . .
What's a faux pas this season?
Pactor: Anything black. Nothing looks more dated than black these days. Pleated pants with solid shirts are out for men.
Ramos: Uggs for women. Pants with multiple pleats for men.
Belt: A faux pas? Not being willing to express yourself.
Knowles: Showing too much skin.
. . .
If you're going to splurge, what's the one item you need to have?
Pactor: Colored leather or suede jacket for women. Patterned colored dress shirt for men.
Ramos: Anything alligator for women. Anything Yves Saint Laurent for men.
Belt: The Celine "Grace" handbag in candy sharkskin that retails for $1,350.
Knowles: A great designer handbag.
. . .
What's the best steal this season?
Pactor: Faux fur for women. For men, MICHAEL Michael Kors' sportswear collection.
Ramos: Faux fur for women. Vintage T-shirts for men.
Belt: For women, faux fur — it's everywhere from coats to trim on jackets and shoes. Also, brooches that resemble fine estate jewelry. For men, washable suede.
Knowles: Beautiful tailored cashmere simple wool coats. Try Loehmann's, Off 5th Saks Fifth Avenue Outlet Stores, Saks' or Neiman Marcus' end-of-season sales.