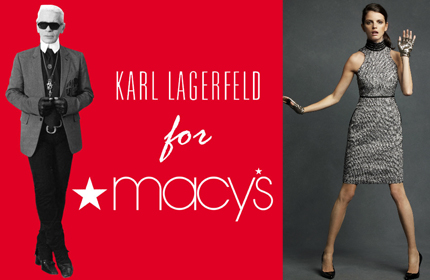 The economy being on the forefront of everyone's minds these days, who isn't budget-conscious? and what's great is that the department stores, not surprisingly, know it and even the biggest fashion superstars, such as Karl Lagerfeld, get it!  We, the consumer, still love luxury and will pay for it, however, we have learned that we can pay many different prices for many different items…we are just shopping smarter!
The timing could not be better for designer, Karl Lagerfeld, one of the most celebrated designers of our time, to collaborate with the largest Department Store in the country to give a boost to their contemporary world, known as Impulse, with the introduction of their newest designer capsule collaboration, Karl Lagerfeld for Macy's Impulse.  This world of contemporary, which is proving to be the fastest growing area in most stores, has been admittedly under-serving this customer at Macy's, so they have focused a significant push in that direction.  They began this year with British designer, Kinder Aggugini and then Matthew Williamson and now adding the biggest name there is…Karl Lagerfeld and rumor has it that Giambattista Valli will follow in this Impulse world occupied by the likes of Rachel Rachel Roy, Free People, Ed Hardy, Ralph Lauren RLX and Seven for all Mankind, to name a few.
As for the collection for Macy's, "It's quintessential Lagerfeld but done at affordable prices from $50-170," says Jeff Gennette, Macy's Chief Merchandising Officer. "The collection has a sophisticated aesthetic that weaves rich fabrics and chic silhouettes to create a collection both modern and versatile," continues Gennette.  There are refined dresses, airy tops, modern tweeds and his signature high-collared neckline. His styling ranges from color and pattern to sophisticated tuxedo dressing for eternal elegance. For his touch of modernism, he has added his collectible tee-shirts, comfy jackets mixed with crocodile pants and leggings to give the collection some of his Rock 'n Roll edge.   I find the collection to be attainable luxury that is both timeless and ageless.
In closing, Karl himself sums it up by saying, "To me, Macy's is the perfect Department Store in the U.S. where everybody can find what they're looking for without ruining their budget," said Lagerfeld. "That's why I'm happy to make this limited collection just for Macy's."
The Collection will launch on August 31 in the 235 Impulse stores in Macy's chain of 800+ locations and may also be available to purchase online at www.macys.com/impulse. Be there early, there are 45 styles, purchased to last for a 4-6 week selling period.  However, for those of us that remember Karl's first popular priced venture at H & M in NYC several years ago where the customers were lined up around the block, this is not a morning to sleep in.  Get in there soon, it is a capsule collection and exciting launches like this in retailing do not stay around very long!