When Hat Designer Extraordinaire, Philip Treacy, made a special appearance at Neiman Marcus to kick off the Hermann Park Conservancy, Luncheon in the Park on March 9, all of the guests, myself included, were wowed by the fashion show of exquisite hats, true works of art, that adorned the gorgeous runway gals. Chanel, Valentino, Givenchy, Alexander McQueen are just a select few Haute Couture houses that Ireland born milliner, Philip Treacy, has designed for.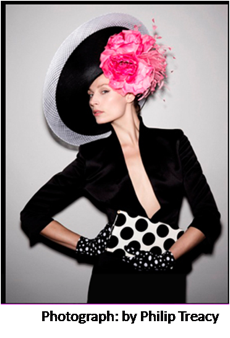 Treacy is no stranger to fashion risk takers such as Lady Gaga. The Fashion Diva has adorned various Philip Treacy creations, of late, to events such as the Grammy's and the MTV Music Awards.
We loved having the chance to sit and chat with Mr. Treacy after his recent Neiman Marcus appearance. Here are some highlights from the interview:
When and how did you realize that you wanted to design hats?
I instinctively began creating garments as a kid by creating outfits for my sisters' dolls out of whatever I could find. I just had it. Fashion is an instinct. Some people just have it and some don't. I'm good with my hands and creating hats just came naturally.
What made you interested in starting to design hats?
I started off by taking a hat apart and restructuring it and designing it the way I wanted it. It wasn't one of my best hats, but someone still liked it enough to buy it.
Where do you find your greatest inspiration?
The customer. I like to form my hats to fit the personality of the person wearing it. The mirror doesn't lie. I make hats for my customer that will make them look and feel beautiful!
Was there a big difference when working with Lady Gaga as compared to Sarah Jessica Parker?
No. It was the same. Two years ago, when I designed for Sarah Jessica Parker's Sex & The City London Premier, she was a big fashion risk taker and now compared to Lady Gaga, SJP is modest!

Here's a question that every woman wants to know. How do you prevent getting hat hair?
That's easy. You don't take off your hat. Why would you take it off? (spoken like a true hat artiste!)