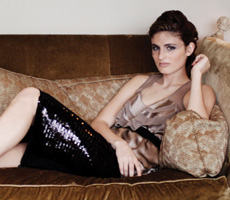 Ahh, to have been in Italy this past weekend would have been bellissimo!!  Couldn't be there? Well then, I hope you at least made it to the Italian Expo at the George R. Brown where Hall D was filled with many, many native Italians.  There was a taste of fine fashion, wines, food and some delicioso restaurant delicacies to taste, and some amazing cars and motorbikes to feast your eyes on.
Our Chic Sheet Star today is an established local (Dallas) designer, Shirin Askari, who is the winner of the Fashion Design Competition, which consisted of 8 finalists that all had established collections, were from this area, Houston or Dallas, and had a heart filled with desire to be a great designer and to learn from the best. Each contestant picked their favorite styles for their fashion show this Sunday where they presented their designs and themselves for the local judges. The prize for this, a trip to Milano for Fashion Week 2012 to meet and have working meetings with some of Italy's finest design teams…and Shirin took home the prize!
This 25 year old Dallas native began sewing under the guidance of her Mom at the age of 4, made her first dress at 7 and continued to sew her own clothes. After graduating in Fashion Design from North Texas, she worked in NYC and then was encouraged to audition for Project Runway, Season 6. That was the season of the big move to L.A. and she says the experience is something that she will never forget.  When asked what she learned from that all-consuming, intense 5-week competition, she said "I learned how to take positives from criticism, that everyone isn't going to like what I do and how to be a tough competitor!" (Good training I would say for facing retail buyers!)
When asked how she would describe her designs, her response was. "Chic and classic with a modern twist," and looks to vintage clothing for her inspiration…how to take many of the great classic styles of yesterday and change them up to make them work for today's modern woman.
Her target audience began as the 20 to 30-somethings but has evolved to include the Boomer set…hey, I get it , when I shop with my girls and we like the same things….age is definitely a state of mind! She also sizes from XS to L, with a large being the equivalent of a 14.
When asked what the future holds for this young talent…other than the Milan experience of course, she said simply that she is always with her camera, taking photos for inspiration for her next collection.  My suggestion to her, be prepared to take lots of photos of Milano's Golden Triangle. Their fine boutiques are chocked full with more fashion than two eyes can absorb…and to please think of me while you're doing just that!
To read more: