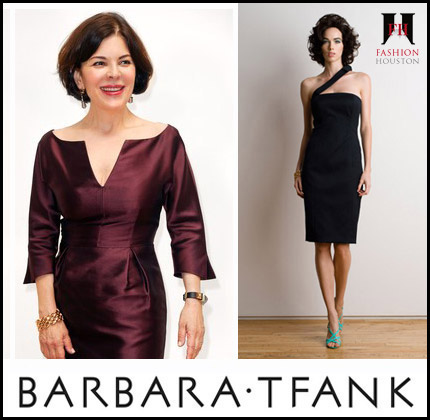 Dress designer, Barbara Tfank, recent guest designer at Fashion Houston, had a clear point of view when she paraded her stylish, couture-inspired collection down the runways of the recent Fashion Houston shows.  As a designer who was intrigued and often inspired by other great designers, artists and movies, dedicated her Spring 2012 collection to a fresh and modern interpretation of film icon, Elizabeth Taylor, a personal favorite of hers not only for her beauty but also for her generosity and strength.  She left no stone unturned in her designs, her model choices (all Liz-look a-likes), even down to the brunette wigs that all of the girls wore, coifed ala Liz and the exquisite Bulgari serpenti watch, an exact replica of the one given to Ms. Taylor by Richard Burton while filming Cleopatra.  It was a strongly themed collection that drew attention to the early Liz Taylor with garments fitted to that hour-glass figure that was her trademark.  I was so impressed with the quality of her design and beautiful use of fabrics that a follow-up chat with her at Neiman Marcus was a must for me, to learn more about this designer that I had knowledge of sparingly and wanted to learn about and see more of.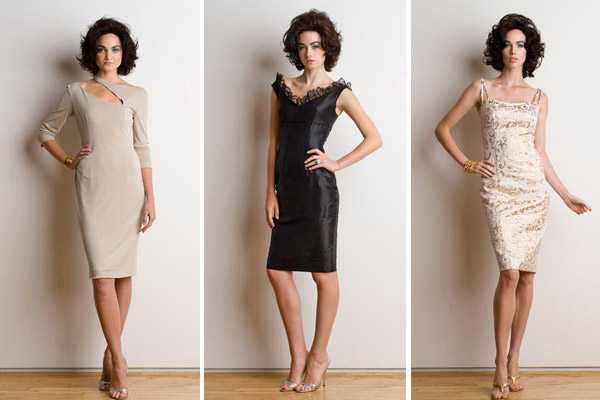 ABOUT HER DRESSES:  Barbara's styles are simple chic, highest quality and enhanced by her meticulous craftsmanship and choice of the finest French couture fabrics.  Lame´ Mysterie, is her French provider and works with her as she chooses beautifully rich textured fabrics that greatly compliment her expertly crafted simple lines.  In this newest Liz Taylor-inspired collection, she has chosen iconic Liz notables such as the slashed neck dresses in both a stark white silk and sensual nude French jersey, as well as the infamous Cat On a Hot Tin Roof black close to the body sheath with black lace trim. Many of the dresses played on Ms. Taylor's slightly off-the-shoulder styling, a technique used by the star to draw attention to her famous décolletage.  Color and texture are used for her Warhol-inspired deep blue/green full skirted dress and apricot swirl taffeta deep v frock.  The jewel trimmed three-quarter glamour coat over pants also plays homage to her iconic film inspiration. When I asked about her ideas for her Fall 2012 collection, she said she has just begun to look at fabrics and for her it all starts with the fabrics!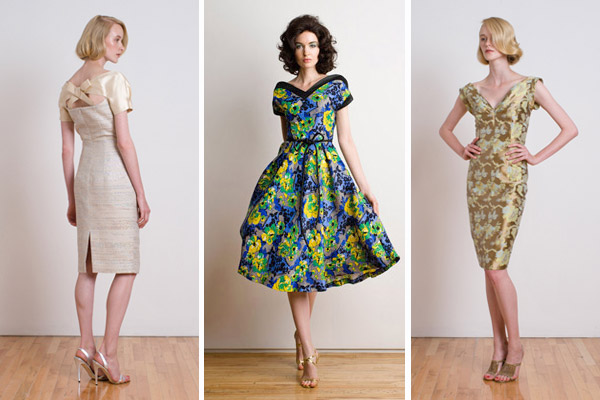 ABOUT BARBARA:  First about her fashion-pedigree background.  She's been in business for about 5 years,  is based in Los Angeles, shows in Fashion Week in NYC, and is currently carried exclusively in select Neiman Marcus stores and Barney's NYC, and has quite an elite group of A+ celebrities (Michelle O., Adelle) that have helped put her and her designs on the fashion map!  In her early days of working and styling with Prada, her first real shout-out came from dressing Uma Thurman for the '96 Oscars, in a lilac chiffon dress that won her her first recognition. As a follower of these Red Carpet moments, even I remember that dress and its impact distinctly.  She's dressed many well-knowns since then but most recently has been given "the call" to be the one chosen by our first lady, Michelle Obama, three times, the most notable of which was the dress she wore and was very photoed in, to meet the Queen of England and the new Royal Couple on a recent visit to Buckingham Palace.  When asked where she looks for inspiration, it was from some of the greats she has had the pleasure of working with such as Richard Avedon, Warhol and her own design admiration for Pauline Trigere. This speaks volumes to her finished product.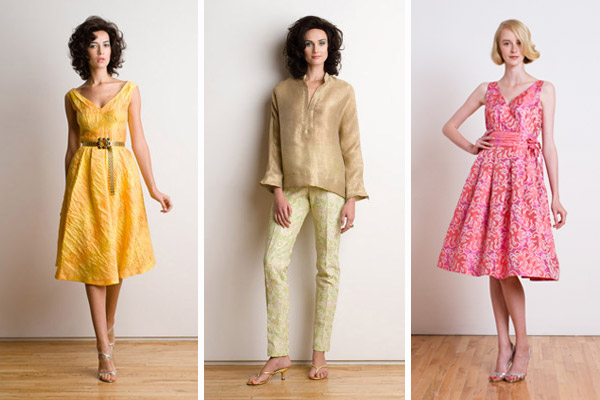 Barbara's collection has a great balance of solids and prints, but the take-away memory for me, was her quality looks in exquisite, textured fabrications.  As I said when I left her at Neiman's, I liked what I saw, I was enriched by our conversation and I had become a fan, as will you, if you review her complete collection on www.style.com.