Former H-town gal, Lauren Bush and her FEED charity have teamed up once again with another giving-partner, this time with Beauty brand, Clarins to create the FEED 15 make-up pouch, being sold exclusively at Nordstrom. This $30 bag is chocked full of Clarins' most popular items…Moisture Rich Body Lotion, Hand and Nail Treatment Cream and Instant Lip Perfector.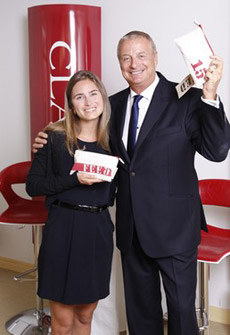 For those of you familiar with Lauren's array of FEED items, you know the code…the number stands for the number of children's food meals provided by the sale of this one make-up bag.  Clarins is hopeful to feed at least one million children in two years through sales of this product says Clarins chairman, Christian Courtin-Clarins, noting that the next project from this collaboration will be a FEED 25 bag, available in Bloomingdale's in October.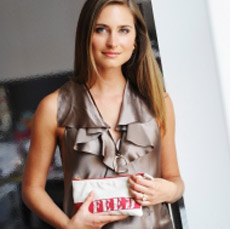 This pouch, made available in July, is just the latest of Lauren's many achievements through this FEED program that through the United Nations World Food Programme, has raised over $6 million and delivered over 60 million meals since it was founded in 2007.
Congrats, Lauren for another worthwhile FEED project well executed, and now get ready for your big wedding day!
For details on all of the FEED items available, visit http://www.feedprojects.com.