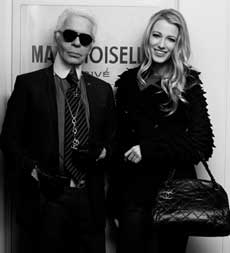 I know I have always dreamed of the day when Karl Lagerfeld would personally choose me to be the face of Chanel. I was his dinner partner once here at Tony's in Houston, after a Fragrance P.A., but somehow he didn't see it?! However, for Gossip Girl star Blake Lively, who we must admit is on top of her fashion game, she has also had dreams of one day modeling exclusively for Chanel. "I had other opportunities and I would say, 'Thank you so much, but I am holding out for Chanel,'" she told the New York Times. "That's who I want to be the face of," and people would say, 'Well, that's unrealistic, they only hire Europeans,' and I said: 'Well, how great. I'll be the first then.'"
Lively, for her part, says of the opportunity: "How did Cinderella feel when she slipped on the glass slipper? A dream come true is an understatement. I can say that I feel like the happiest, luckiest girl around."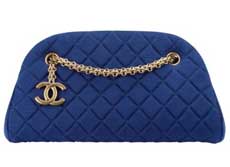 Though Lively's new role as the face of Chanel's Mademoiselle handbag line was announced in the fashion trades back in January, I must admit that when I saw the ad in April magazines I just had to gush a little about it! Lively is known for her fashion sense (besides her acting chops, of course!). Starring in the teen drama Gossip Girl has helped cultivate her place in the fashion world. "Fashion is THE great character on our show," Lively said of the teen drama. (I know the clothes are why I watch it, it's the Sex and the City of the next generation!)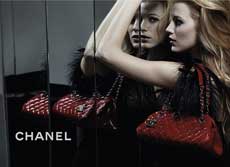 When asked about the Mademoiselle bag Lively said, "Though I am the face of [the Mademoiselle bag], I will carry it like every girl. I will always feel it's more than just a purse. It's a quilted case full of lipstick, love letters and the dreams and possibilities that I have always felt every time I see that beautiful 'CC.' "
Karl Lagerfeld shot the above photo in the company's Parisian headquarters. It's the first in a series. After the photo shoot, an in-awe Lively whipped out her cell phone and shot her own picture — this one of Lagerfeld behind the lens, reports WWD.
The Mademoiselle handbag line comes in five different sizes, from mini to an XL and in colors ranging from tones of soft green to vermillion red, black and midnight blues. The line is available at Neiman Marcus and at the Chanel store.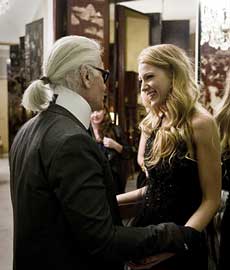 It must also be said that this story is not about everyone going out and purchasing the newest Chanel bag. It's intent is more aspirational.  It's a great story that even the biggest stars can realize their dreams, as can you, if you persevere. Also, for those of you that spending the big bucks on a Chanel bag is not in your cards right now, it's an important read also, because these kinds of new design changes from the big guys has a way of greatly influencing all of the handbag offerings that we may come upon.
Enjoy and dream on!