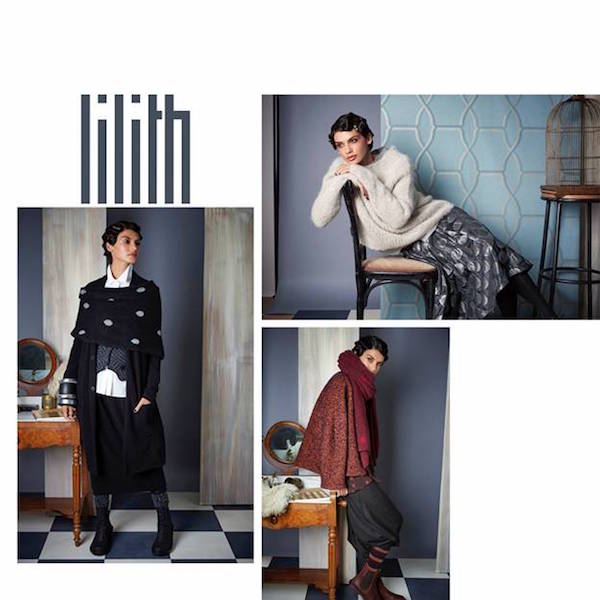 French based LILITH, apparel collection, shown in Houston, March 16-18, exclusively in it's shop-within-a-store at Cotton Club Collection, one of only 15 in-store boutiques
This week a LILITH representative will be joining Cotton Club's new owners Jennifer Cunningham and John Maguire at 3941 San Felipe (next door to Ouisie's) to preview and have available for order, the Fall 2017 apparel collection.  BTW, Spring Lilith collection is fully in stock in their shop there as well.  So you can buy now and/or buy for later, all in one stop.
About LILITH
Founded in Nancy, France in 1987, unexpected, offbeat fabric blends and mixtures of non-traditional colors set the tone of Lilith collection. The Lilith esthetic is artistic, elegant and timeless and has a following of artists, celebrities and professional woman that all have an appreciation for Lilith's playfully free and authentic collections.
Since its origin, Lilith has developed a culture founded on simplicity, availability, attention and energy. Favouring french know-how and partnerships with european companies are priorities and enact a commitment to quality by the brand.
LILITH,  which is sold exclusively in 300 retail outlets in Europe, US and Asia,  is for the woman who enjoys wearing playful, unrestricted and authentic garments. She is also the one who takes great pleasure in uniting Art and Fashion.  It is available in all size ranges from XS thru to LL and looks great on women of all sizes!  One of the things about LILITH that has made this collection so popular with Cotton Club clientele, says its owners, is that "the weight of the fabrics are perfect for our climate", which Texas women love.