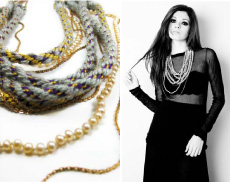 Houston's husband and wife team, Jessica and Jason McMahon have shown how a merger of two talented Jewelry designers can create an award winning collection of contemporary jewelry designs.
The collection, LilahGabriel, new to the jewelry scene, has made it to the Top 20 Finalists in the Texas' Next Top Designer competition, which begins in Dallas this Saturday, April 16 with it's first trunk show exhibit for the press and judges.  One of only a handful of Houston contestants, they are excited to be included and will be eagerly awaiting the judges decisions to be announced on May 21.
"We are so excited and honored to be chosen as finalists for Texas' Next Top Designer Award. We look forward to the upcoming trunk show in Dallas and the chance to meet the other finalists and board members of TNTD," said Jessica McMahon.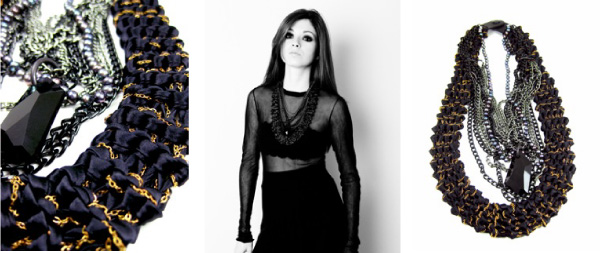 This brand was born when two talented jewelry designers got married and put their collective talents to work to create this very dramatic, modern collection of one-of-a-kind looking pieces.  Jessica, a Pratt University graduate with 8 years experience in NYC fashion came to Houston and met Jason, who himself had been making jewelry for 10 years.  The result is a collection that they create in their own studio from concept to sketches to finished product…all themselves.  Their collective style is an exquisite balance of textiles and metals. They incorporate unusual textile techniques including Japanese braiding, knitting and weaving into their metal works.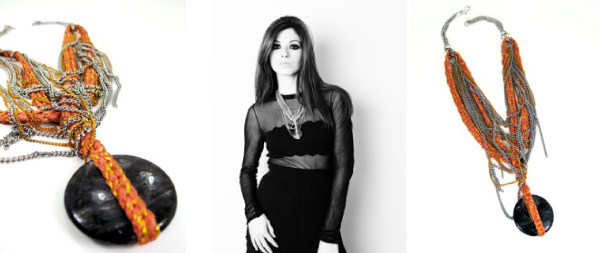 Their works have been picked up by contemporary fashion boutique, Muse, (examples of Spring in-store collection shown in the TCS story on Muse boutique), where they have been very well received by the Muse customers. They are also available in Coquette Boutique and Bistro in Houston and Kick Pleat in Austin.  To see the full collection of their unique style in works, visit http://www.lilahgabriel.com.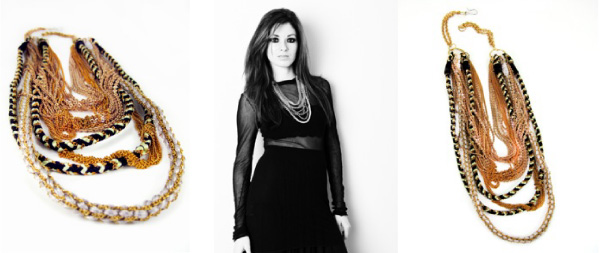 Many of their over-the-top pieces fit very nicely into the Statement Necklace trend that was so apparent on the runways and available  in most high-fashion specialty stores and boutiques.
We are proud of our very talented Houston design team and their nomination, and will be hopeful of their ultimate award success. However, award winner or not they should be very honored for their brand to be included and we will be looking forward to their future with much anticipation of what is to come from this very talented duo!