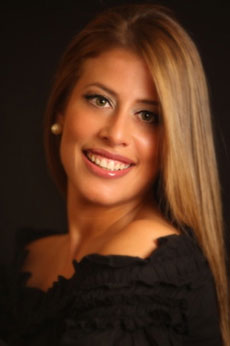 I'm sure that you never thought it could be so simple as to look thinner just by zipping up your dress. Well, you can if your dress has built in Shapewear (ala Spanx-like) made right into the garments. That's the idea behind the new dress collection, NUE by Shani, launched about a year ago and introduced this past weekend at Houston's Dillards Post Oak. The creation of this dress collection is no small feat and could only be developed by someone that knew a lot about apparel manufacturing, had studied women, their bodies and how to construct garments that fit them properly to look great and feel comfortable at the same time.
Designer/Creator Shani Grosz is no novice to the dress business.  This Parsons School of Design graduate, got her first job working for the very designer that was her design critic at Parsons, Donna Karan.  She learned much in her stay there and soon owned her own Bridge Dress line for over 15 years. As a Donna lover, I saw much of her similarities in Shani's collection.  However, as the Bridge Dress Departments  began losing their identity in stores, Shani was quick to jump on to the next big thing. She knew how to make good dresses, the economy was dictating lower price points and technology was all the rage!  So she worked for 18 months in Shanghai creating garments that would be the perfect blend of fashion, design, great fit and technology, all at prices that classified as affordable luxury.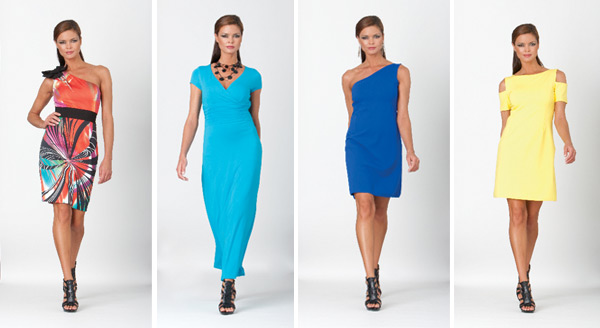 Her goal with her dresses was to be able to answer negatively to the #1 question that every woman asks as she exits the fitting room, "do I look fat"?  She creates garments made of stretch fabrics such as jerseys and crepes that lend themselves to what the industry refers to as technical and /or mechanical stretch…has to do with how the fabrics are woven and just how much lycra is added.  If any of you have ever bought a pair of stretch jeans and love how they fit, they probably have anywhere from 2-5% lycra. Her dresses have 3-10% and her under-slip, the key to her creation, can be 22-26% lycra.  Hence, it's Slim-Fast you can wear!
The attention to detail is all geared to enhance the woman's body.  Shani has gone to great lengths to add details such as seaming in all the right places and banding at the edge of the slip so as not to have it rise and ensuring all fabrics be breathable and can endure 98 degree temps and still keep you cool!  Her goal is to empower ALL women to feel better about themselves when they are wearing her dresses.  She is currently making her garments in sizes 4-16 and is adding size 2's and plus sizes for next season to meet the demands of her customers.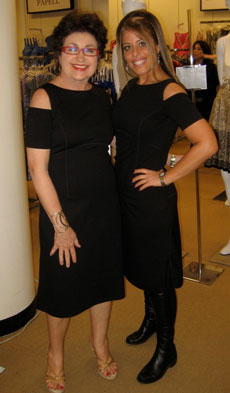 What can I say, I had to see it to believe it. I tried it on (see photo of me and Shani in the same dress), it fit great, I liked the way I looked in it and bought the simplest style in a black day dress that felt most comfortable for me to wear but she has colors, color-blocking and some great cocktail dresses.
Judging from the broken sizes on the sales floor, people are buying these dresses.  The key, which is why Shani is traveling all over this country and the world, (she is sold in 44 countries) is to get customers to try it on to get them hooked.
As a Spanx wearing and lover, I must say it would take a lot to make me leave my devoted spanx on the fitting room floor but Shani has found a way to give you fashion, style and the security that you are lookin' good enough to allow me to do just that….you must try it on to believe it!
To read more about this technology and see more examples of the many styles that Shani has created for ALL modern women, visit the NUE by Shani Facebook Page.