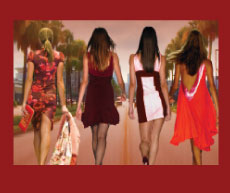 So, you're looking to start your spring fashion shopping and wondering where and how to get started?  What are the best colors (actually I told you that already), but you want to see it live, I know?!)  What's new in Denim, Flirty Party Dresses, Shorts for play and work and on and on?!  Well, nothing will inspire you more than to see it all put together just for you, LIVE, by our town's uber-fashion show team of Lenny and Tamara. They are doing just that for the River Oaks Shopping Center, Second Annual Spring Fashion Show and After-Parties.  It's all starting next Wednesday, February 23, 2011 at River Oaks Theatre. Some of the participating show boutiques will be 310 Rosemont, Gap, Em & Lee, Haut Chocolate, Jos. A Banks, La Mode Swim and Lingerie, Luke's Locker, Rebecca & Drew to name a few.
This event is complete with pre-show cocktails at 6:30 p.m., full fashion show at 7:00 p.m. in the River Oaks Theatre and after-parties galore from 8:00 until 10:00 p.m. at select stores.  All of this will remind you of a fun, street fair. You can eat, shop till late and take an up close and personal look at the fashions as they are strutted by Neal Hamil models for you at each of these stores. Some of the participating after-party locations are 310 Rosemont, Em & Lee, Haut Chocolat, Rebecca & Drew, Mia Bridal Couture and at Twice New, where in addition to lite bites & cocktails, which the many restaurants in the center are providing, there will be a book signing by local author Linda Gayle Thompson.  You may know the very revealing story of her life filled with romance, hardships and laughter, from her new book, Hookers, Midgets and Fire Trucks.
I love it ALL because it's benefiting the cause that is nearest and dearest to me, American Heart Association, which will receive 100% of the proceeds through the generosity of Weingarten Realty that is sponsoring this event.
I will be co-chairing with all of my friends from the AHA Guild.  Lesha Elsenbrook is co-chairing, Lilly Andress is Honorary Chair and our MC for the evening is fellow Guild-member and Channel 13 reporter, Jessica Willey. Come see us, we will be looking for you!
Need tickets to the River Oaks Shopping Center Event and Shopping experience, there are a few ways you can get them……
Online, www.ahariveroaksfashionshow.org. They will be mailed to you or you can call up to day of and pick up your tickets at the door.
Live and in person; Saturday, Feb. 19th, from 11:00 a.m. till 3:00 p.m., AHA Guild Members will be selling tickets and shopping cards at the ROSC, near Events
Contact your favorite AHA Guild Member, we all have tickets and would be happy to sell you a few!
Entrance to the cocktail party, fashion show and post-show bashes is $40 ($50 on the day-of) and include a shopping card (valid February 23 – March 3) with discounts to many of the center's boutiques (including stores such as Events, that are not included in the show), entertainment hot spots and restaurants.  Shopping cards may also be purchased separately for $40.  Remember all ticket sales in their entirety will benefit  American Heart Association.