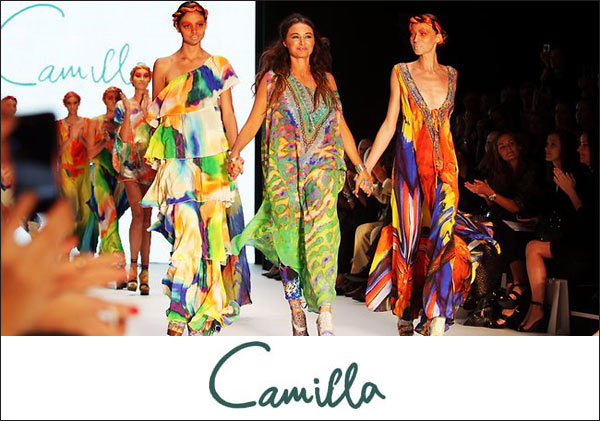 The caftan, a style that has remained popular for many, has been elevated to chic-ness by Camilla Franks, a designer that awed all of us that saw her show during Fashion Houston last October.  The vibrant color, pattern and designs in caftans, leggings, rompers took over the stage  making the entire crowd so enthusiastic for her collection.  We were all anxious to see it all live at Tootsies at the trunk show the next day but unfortunately, it was only available that day after the show for special order and then was flown away to her next stop.
The good news is that Tootsies has purchased many of those styles and they are now in store and I am sure many of you will be lining up for these fabulous pieces.  Camilla Franks' signature style consists of free-flowing, colorful and graphic prints that fit and flatter all shapes and sizes, even those beyond a size 8.  The designer has said that her influence for her designs come from her belief that "All women have the right to look and feel beautiful no matter their age, color, size or origin."
The Australian designer has many celebrity fans who adore her aesthetic.  Celeb fans include Beyonce, Kate Hudson, Gwen Stefani, Fergie, Jessica Simpson, and Oprah, whose appearance in a Camilla caftan in her native Australia caused stock levels on her website to deplete rapidly.  Oprah even asked the designer to make a special mini collection just for her.
The Camilla line is available at Tootsies and online at Nordstrom.com.