Last season was all about the pant. Wide legs were back, skinny ones were still going to hang around. Pants were making a comeback.  They did this, they had their season of glory and Houston women warmed up to the idea.
However, for those of us that have welcomed in a few Spring Seasons in Fashion, we know that Spring is Dress and Skirt time and this year is no exception (also shorts, but that's a different story!).  I don't recall when I have seen so many choices in the skirt category and I'm here to showcase some of the ones I liked the best from the Spring/Summer Collections.  There are so many choices out there, in every fabric, pattern, style and length.  Below are the ones I liked the best (Please note that I have pulled most of my images from the designer collections. However, skirts are an easy buy in all price ranges wherever you choose to shop!).
It must be noted that I am a skirt gal and the one thing that I always encourage my clients to add to their closet wardrobes when I work with them is more skirts and dresses. Houston has been a pant town too long, so here goes….
The Pencil…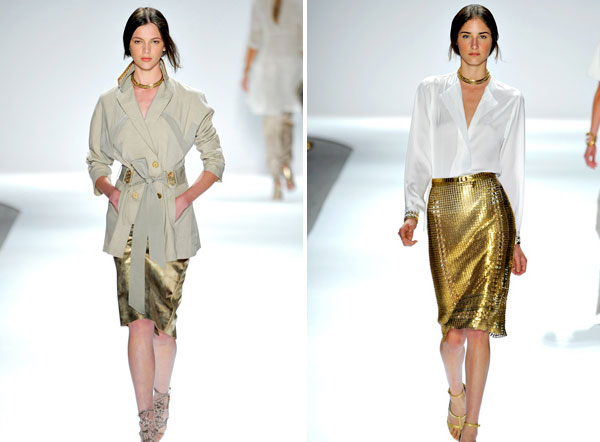 Leather is a stay-around fabric, not going away for early Spring. Metallics and/or strong color or prints work well here.  These skirts from Ellie Tahari are great silhouettes for day into evening….with just a small change-up can take you from office with jacket to evening.
The Prints…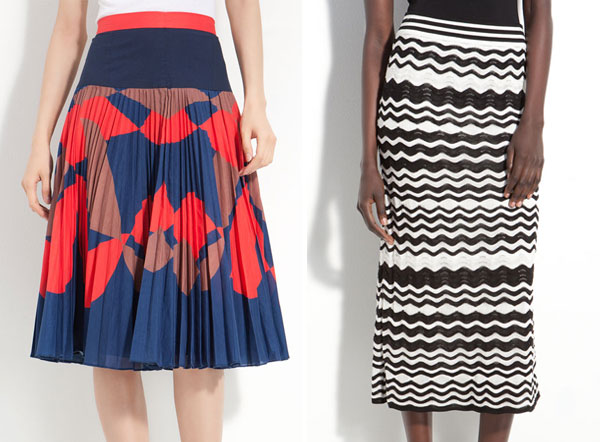 Prints of every kind are Number One as a big trend for Spring.  Many stylistas are loving head-to-toe prints. Personally, I am more comfortable with touches of print.  A skirt can do that for you easily.  Here, a Milly pleated tribal (another big spring trend influence) or the signature Missoni flame stitch. Choosing a favorite print on bottom and taking it down a notch with a solid top is just enough for me.
The Pleats…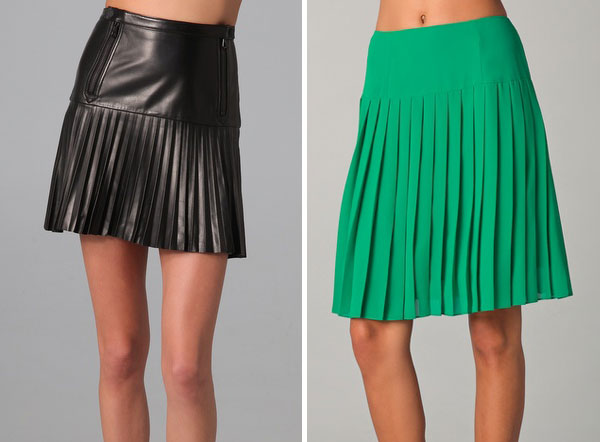 Femininity continues into Spring and nothing says that better for the modern gal than pleated skirts, available in all lengths, fabrics and colors. Rag & Bone does their twist on lady-like pleats in black leather, while Nanette Lepore takes a more classic approach in bold kelly green.
The Mini…
Short skirts never go away for Spring. Two new approaches for this year, metallic leather from H&M or in bold color, the short skirt is teamed up with one of Spring's newest trend, the peplum top from Alice and Olivia.
The Maxi…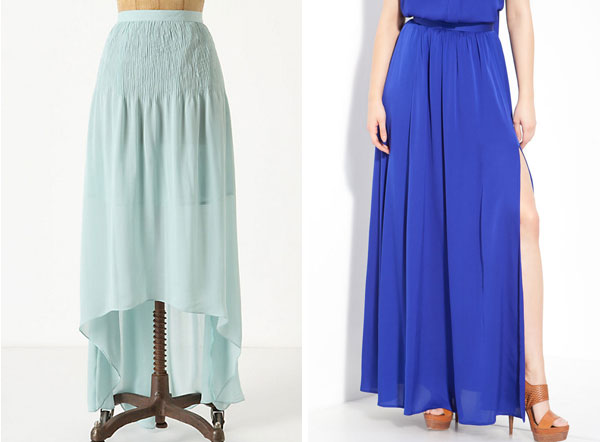 The Maxi skirt has been working its way back into our wardrobes.  Here, two new versions:  on left from Anthropologie are two of the seasons' newest looks, the high rise skirt, shorter in front/long to the back in one of Spring's most popular fabrics, sheer!  From Rachel Zoe in bold, cobalt blue, another popular trend that's been brewing and seen much on the red carpet…the high leg slit, showing just enough skin to make it interesting.
Have fun, add skirts to your wardrobe….this trend definitely has legs for Spring 2012!