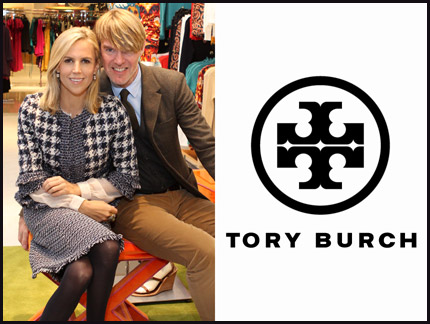 Wow, what energy was on the second floor of Neiman Marcus last Thursday, when the fashion designer and the beauty + brains behind one of the biggest and fastest growing brands around these days, Tory Burch, came to town.  Such a frenzy this lovely lady created…there were her customers, all of Houston's fashion media and even other local store owners and designers that had to drop by and check it all out for themselves. Accompanied by the very entertaining, Neiman's own Fashion Director, Ken Downing, I can truly say it was a memorable, fun afternoon!
Having visited with Tory in the past, my focus in chatting with her before the show was to talk about her current collections and just what is in store for all of us Tory fans in the future and she had lots to say.
First a touch on her history for those that aren't aware just how much and how fast this brand has evolved.  Started in her own Nolita, NYC store in February of 2004, Tory began by putting out there for the customer to choose from, 12 different categories of product. It was all a sell-out. Her apparel was accepted immediately and the star that began her fame and developed a life of its own was her famous Ballet flat, the Reva Ballet (named for her Mom) took off like wildfire. I mean, really who doesn't own a Tory Burch logo ballet flat (six variations in my closet!).  Interesting enough, Tory mentioned that that flat, which she felt needed a new twist, has sold very well also as a non-logo flat called the Edie. However, she has been seeing a return to the logo of late and is happy that her followers have re-discovered some of the many change-ups she has done to it, including the new bow flat that is in stores right now.  Tory has grown her brand to be found in 1,000 department and specialty stores globally, most recently was her opening in Dubai. She also is the proud owner of 63 of her own signature stores that carry the most extensive assortment of her collections.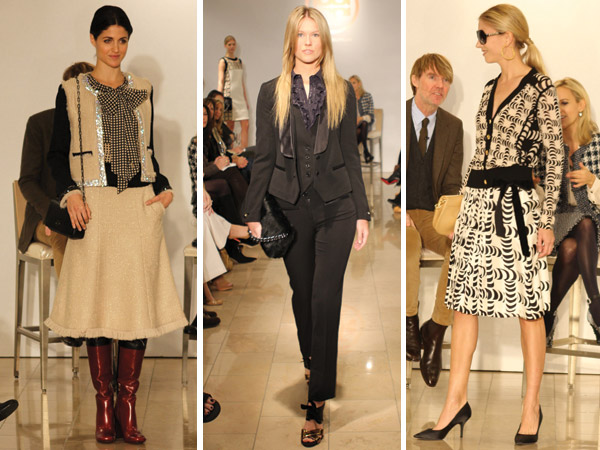 We then chatted about her Fall/Holiday collections that are now available in the stores and the opener of her show.  I asked what she felt was the focus of her Fall line. She emphasized her use of tailoring with an "unexpected twist" that she likes to add to many of her looks, as you will see pictured.  She loves mixing media, meaning different textures on one garment or outfit or through the addition of trims, such as Swaroski crystals to an otherwise tailored jacket. Personally I am a huge fan of navy and the return to fashion of this wonderfully rich color is a fave of mine. Tory mentioned that it has always been important in her collections and she feels it is newest mixed with black.  An idea that she and Ken both mentioned as all the rage in Europe and a very sophisticated way to wear these two very popular neutrals. Leopard was very prevalent in touches and a definite stand-out in her accessories collections of shoes and handbags….can never have too much leopard!
The Tuxedo, shown above in brown and feminized is a must for her Holiday Collection and for all of our holiday wardrobes, as is her use of mixing of black & white prints.  Again, the use of mixing velvet and/or bugle beads with otherwise tailored dressing was a stand-out approach to her collection for me. Also, to be noted was the use of "dressed-up" sunglasses for day into evening, an idea that has started to catch-on as our sunglass wardrobes continue to expand.
For her Resort/Pre-Spring Collection, just now hitting the floors, her palettes changed to a wash of clear color and lots of it.  Very influenced by Santa Fe hues, her interpretation was chocked full of great, wearable prints and stripes.  Colored Bottoms, or Fancy Pants, as Ken referred to them, is a trend that has taken off in all fashion circles, particularly in denim and was very well represented in her collection.  There was also a touch of linen in the show, which Tory expressed that she had taken a break from for awhile but can now not get enough of, so I'm sure we will see much more to come.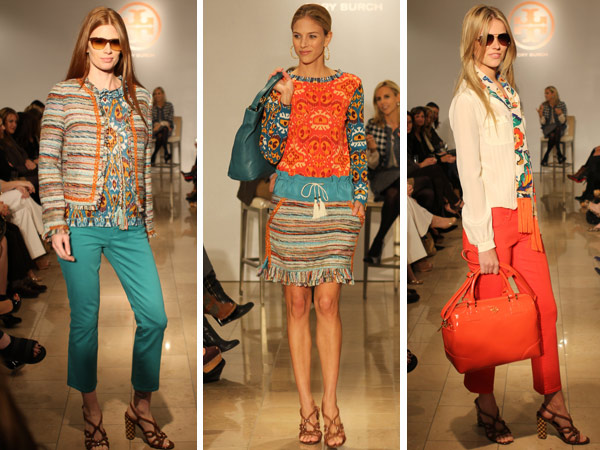 So what next for Tory Burch? She just showed her Spring 2012 Collection, a Deauville, 20's inspired collection that she showed for her very first NYC Fashion Week Runway Show in September.  Says Tory,"I love to take a nod from the past and modernize it to make it my own!"  She's opened a true flagship store on Madison Avenue, is very excited about her Fashion Sunglass and Costume Jewelry collections, as well as a new full Swimwear line.  Her newest buzz is that she has announced her collaboration with Estee Lauder to launch her first Fragrance collection, to be followed by a capsule cosmetic line that will be hitting the stores in 2013. Not to mention her tried and true footwear and handbag lines that we will have to wait to see what Spring newness she will be offering, although we did get a hint of great colored bags and espadrilles done a little differently, with that twist of course!
In closing, this phenomenon that has become the Tory Burch brand, appears to have no boundaries or ceiling. It just keeps growing and adding more exciting merchandise that all of us can see and afford to buy….I think that and her talent for staying relevant is probably the secret to her success that continues to keep us all coming back for more!  To see more photos from this event, click here or if you want more info on Tory, visit her site at www.toryburch.com.