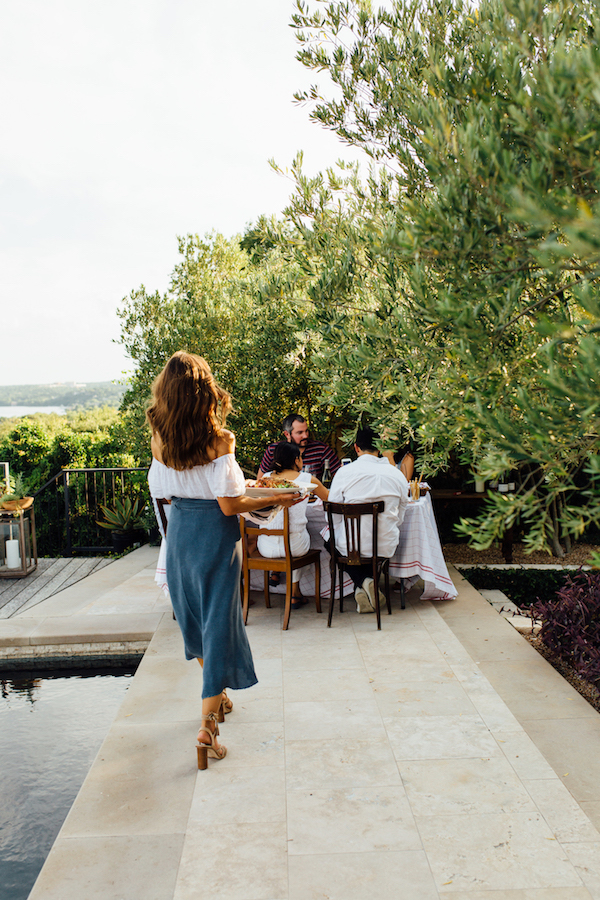 Memorial Day has come and gone, and summer has unofficially begun! And we couldn't be more excited.
Julie here today, and I am officially in a summer state of mind. I'm thinking ahead to long boat days, weekend trips, and lots of rosé. Lots of rosé. Whether or not your summer plans are already set and in motion or you're more of a "fly by the seat of your pants" type of person, invitations to stay at friends or family homes are bound to come up, or simply invitations to backyard BBQs and summer soirees!
My mom taught me from a very young age to never show up somewhere empty handed. So I truly never show up empty handed. It's a nice touch to bring something to show your appreciation to your host/hostess. And it doesn't have to be anything crazy expensive at all. It's the thought that counts!
If you know you're likely going to end up at many different parties and homes this summer, it's a great idea to have some go-to host/hostess gifts on hand. That way you don't have to run out at the last minute and scramble to find one.
So, below we've rounded up 10 of the best gifts to have on hand all summer long! Some are great for when you're heading to a party and others are perfect for when you're staying at a friends for a few days. Keep on scrolling!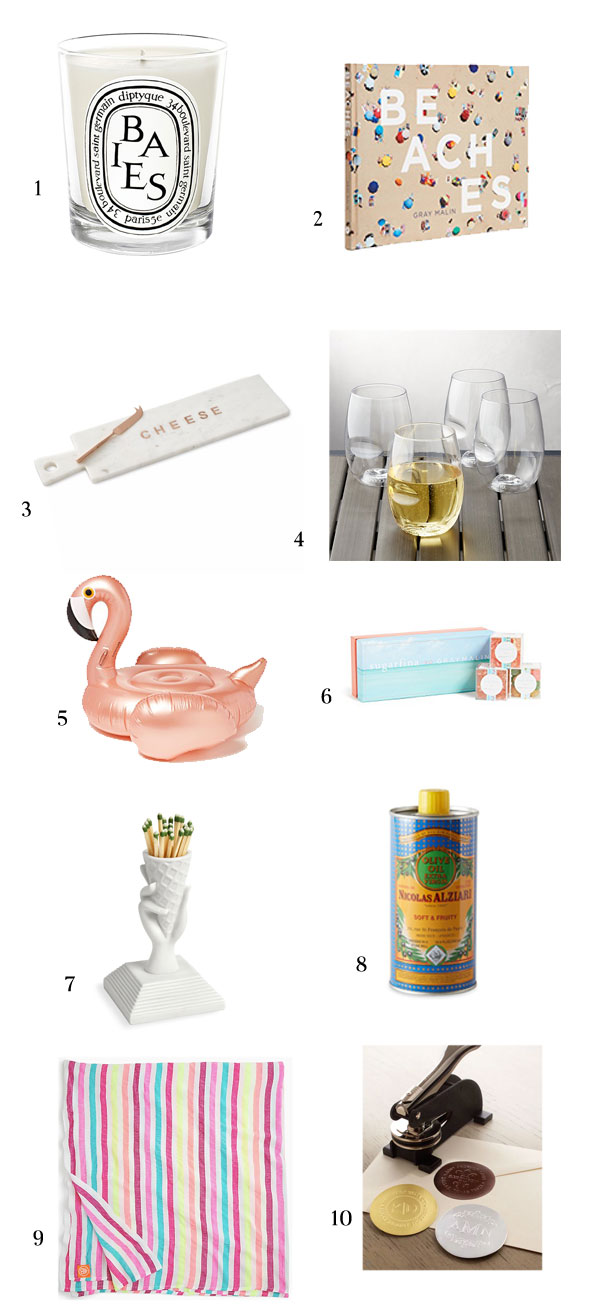 1. diptyque candle – A candle is always a solid choice, as one can never have too many. And diptyque has always been a favorite of Roz's! They are neutral on the outside so they'll go with any and all decor, and they are all delicious smelling on the inside.
2. "Beaches" by Gray Malin – Like with candles, one can never own too many coffee table books, especially when they are as fabulous looking as this one. And it's an added bonus that the book goes well with the season!
3. Marble and copper cheese board – Cheese and wine. Is there a better combo? The answer is no! And one who hosts always loves to get new serving pieces to use at all their events and parties.
4. Shatterproof plastic and stemless wine glasses – Every home in the summer time needs some shatterproof wine glasses. Take them to the beach or use them around the pool, and you don't have to worry about any glass breaking. Safety first!
5. Luxe rose gold flamingo float – Fun floats are all the rage. They have been for a few summers now and they will continue to be for a while!
6. Sugarfina candy – The best candy around!  A bit pricier than your normal candy, but oh so much better and more beautiful. Anyone is bound to love this candy!
7. Jonathan Adler I-scream match strike – If candles fill your friend's home, this match strike will serve not only an adorable purpose (ice cream! summer!), but also a very functional one.
8. Alziari olive oil – Who doesn't love nice olive oil? It might not be something your friend would normally buy for themselves, but it's always a welcomed gift!
9. Las Bayadas beach blanket – Every home in the summer also needs a beach blanket. For the pool, the beach, or when it gets chilly at night to wrap around yourself, it's something that will be used time and time again! And how fun is this one?
10. Two-Initial address embosser – Even if they've been in their home for a while and they likely already have something like this, it's great gift to give and will be used for years to come.

Feature image borrowed from Camille Styles