"51fifteen is going to be the premier venue of the Galleria", says Joseph Lenahan, COO for Landmark Hospitality. Houston based Nina Magon of Contour Interior Design created the design inpiration, with Construction Concepts bringing the grand space to life. All of this makes for not  just a culinary delightful experience but a design experience for all that visit.
To draw the eye of the shoppers from the retail area to the restaurant, the entrance features a stunning art installation featuring a sea of tulips dangling from the ceiling.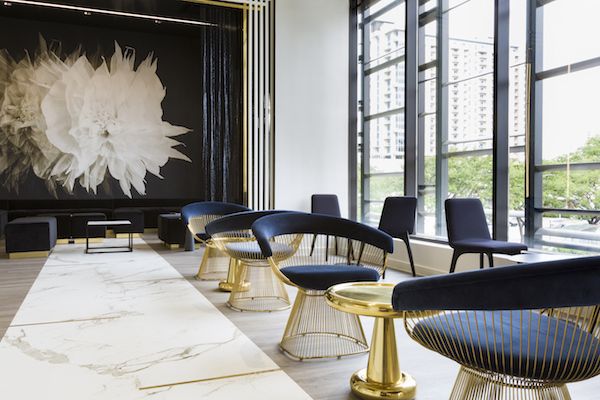 Adjacent to the restaurant is a spacious bar (see below) with a glowing backlit bottle display and the semi-private long, (see above) features sleek lighting, abstract art, low seating and metal drapery with brass detailing to create a posh, contemporary vibe.
Our reason  for re-visiting 51fifteen is that I had covered and certainly been very well-fed there with unusual tasty menus pre-opening of the new Saks but had not really been back to take in the whole picture. When we were invited for a visit back we could 't wait to sample the bigger picture. Since  they were participants in Restaurant Week….it gave us a great excuse to check that out but believe me, our eating frenzy did not stop there.
Chef Stefon Rishel suggessted many of his favorites as add-ons to our Restaurant Week choice….however, I have to mention that the Roasted poblano soup on the RW menu was absolutely amazing!  His favorites which we have images of below were divine and not to be missed…..I will I.D. them under each photo.  We also tried the Kale Caeser and the Salmon Orzo, both of which I would have again. (see below for a peek at some of the heavenly dishes that we tried and consumed in their entirety!!!!!)
Prawn saffron risotto with fresh poached shrimp on top
Lamb T-bones
Roasted Heirloom Tomatoes and Mushroom Salads
Mozzarella Arancini Balls (Rice Balls)
Charcuterie Cheese Platter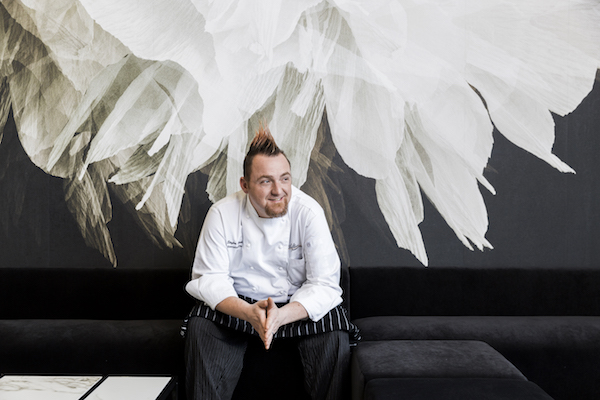 Executive Chef Stefon Rishel
Inspired by his grandfather, Rishel enrolled in a culinary school in Dallas. Confident that he could learn more on the job than in the classroom he spent his formative years traveling and opening new restaurants. Now with 15 years of culinary experience he has received many accolades as a Chef, of his menus and his restaurants.
51fifteen is located at 5175 Westheimer, on the 2nd floor of Saks Fifth Avenue (713-963-8067). It is open 7 days a week, has happy hour 3-6:30pm daily and brunch Saturday 11am-3pm and Sunday 11am-7pm.
Photography by Julie Soefer