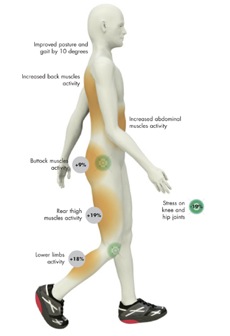 If you're like me and get most of your exercise from WALKING, you may or may not know about the first ever physiological footwear that has a positive effect on your entire body. These shoes are called MBT's (Masai Barefoot Technology).
These unique exercise shoes, which I first saw on the feet of my good friend, Janet, actually STRENGTHENS muscles, RELIEVES joints and BURNS CALORIES as you walk in them. You and your body know the moment that you take your first steps in these "anti-shoes", that they are different…….you feel them instantly working to amp up your workouts and the word on the streets (no pun intended here!) is that they produce great results! Got to love that!!!!
Although they are available for purchase on line, I say trying them on in a store with a trained sales associate is a MUST…….I was amazed how, when I was told exactly how to balance myself and stand properly in them, I could actually feel my thighs and abs tighten up…….I was sold!
These shoes are becoming all the rage……those of you that are 30 Rock fans, may have seen Tina Fey commenting to her airplane buddy, Oprah, that she was wearing her pilates shoes…….that's them!
You have to walk it, to get it……..but believe me, you'll be hooked……..remember, BALANCE is the key!
Want more info? www.swissmasaius.com

Where to get them? The Walking Store, Foot Solutions, Whole Earth Provisions, E.G. Geller and Naturalizer to name a few.