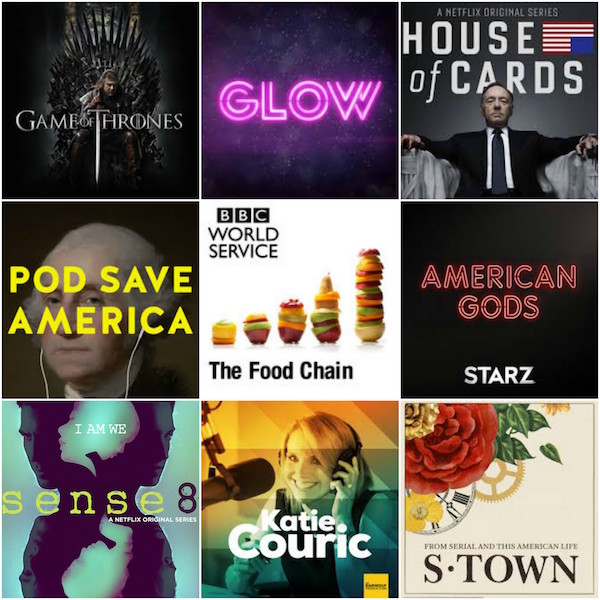 Beth here and I don't know about you, but one of my favorite ways to pass the days of summer is binging on some of my favorite TV Series and Podcasts. With that in mind, I decided to give you a round up of my current "Binge Worthy" choices for your viewing and listening pleasure.
TV
Sense8
From the team behind the Matrix. Sense8 dazzles the senses from beginning to end. Centered around eight central characters that have evolved to be able to share senses (abilities, emotions, knowledge) with each other, the show takes place in 8 continents and is filmed on location. Critically acclaimed for both their LBGT story lines and the transgender Wachowski's at the helm, Sense8 fans reached a fever pitch this summer when Netflix cancelled season 3. The internet was in such a fervor that the shows creators have announced that a TV movie is now in the works. which is a good thing since Season 2 ended on a major cliffhanger. Both seasons are available on Netflix, so start watching now!
American Gods
Season 1 of Neil Gaiman's novel blending ancient and modern mythology into an American fantasy novel just finished airing on Starz. The series centers around our hero, Shadow Moon, as he crosses the country mingling and mixing with the gods, old and new. Meant for mature audiences, the show pushes the boundaries and is as visually stunning as it is addictive. The series just got picked up for a second season, so now is a great time to binge on season 1.
GLOW
AKA the Gorgeous Ladies Of Wrestling is based on the fictionalized characters and gimmicks of the original syndicated professional women's wrestling circuit in the 80's. Another Netflix hit, the entire season dropped on June 23rd. So far the buzz is that this is one seriously addicting show. In fact one of our editors already binge watched it at the time of this round up. Set in LA in the mid 80's with a 10 episode run, the first season of GLOW is sure to entertain.
Game of Thrones
Winter has finally arrived! GOT fever has been sweeping well, the world, these last few months. With Season 7 just starting and HBO go available anywhere, anytime, you can gulp down 6 glorious seasons in a row. Chocked full of everything you could want in a series (zombies, dragons, Kit Harrington), GOT offers something for everyone with production values that are worthy of the big screen. We don't know who will win the Game of Thrones, but it sure is fun trying to figure it out.
House of Cards
A political drama set in 2010's Washington DC, Season 1 dropped on Netflix (yes Netflix again) back in 2013. The series, centered around Congressman Frank Underwood (played by Kevin Spacey) and his designs to back into a position of power aided by his wife (played by Robin Wright), quickly garnered critical acclaim and was the first online only web TV series to receive major Emmy nominations. With 5 seasons to binge on and very apropos content given today's political climate, we suggest you start watching.
Podcasts
S-Town
From the minds behind the highly acclaimed and highly addicting Serial, S-Town focuses on a solitary horologist, John B. McLemore and takes place in Woodstock, Alabama who is suspicious of one of the towns elite son's who has been bragging about getting away with murder. Unlike its predecessor, S-Town dropped all 7 episodes at once and was reported to have been downloaded more than 10 million times in the first four days of it's release. With that kind of interest, you might just be hooked after the first few minutes, we were.
The Food Chain
Brought to our ears by the folks at BBC America, The Food Chain explores the business behind what ends up on our table, its cultural significance and the journey to make it your plate. With over 115 episodes available now for download, The Food Chain offers no shortage of entertainment and information on one of America's favorite pastimes, food.
Katie Couric
One of America's most beloved and most recognizable female journalists, Katie launched her podcasts in 2016, and even did a crossover podcast with another of our binge worthy entries, Pod Save America. With over 35 podcasts already available, Katie has been busy and if you can't get enough of Katie's voice, you can also follow her via her website, KatieCouric.com.
Pod Save America 
Billed as a progressive political podcast, Pod Save America debuted at the start of 2017 and is co-hosted by Jon Favreau, Tommy Vietor, Jon Lovett, and Daniel Pfeiffer. Running under The Crooked Media banner along with fellow podcasts like Pod Save The World, PSA promises its audiences "a no-b*shit conversation about politics where you can laugh, cry, scream, ridicule us daily, share your ideas, and hopefully decide that you want to help fix this mess too". While we do not take any political stances over here at MRG, we do applaud the team behind Pod Save America for putting everything out there. It makes for some good ole addictive listening too.