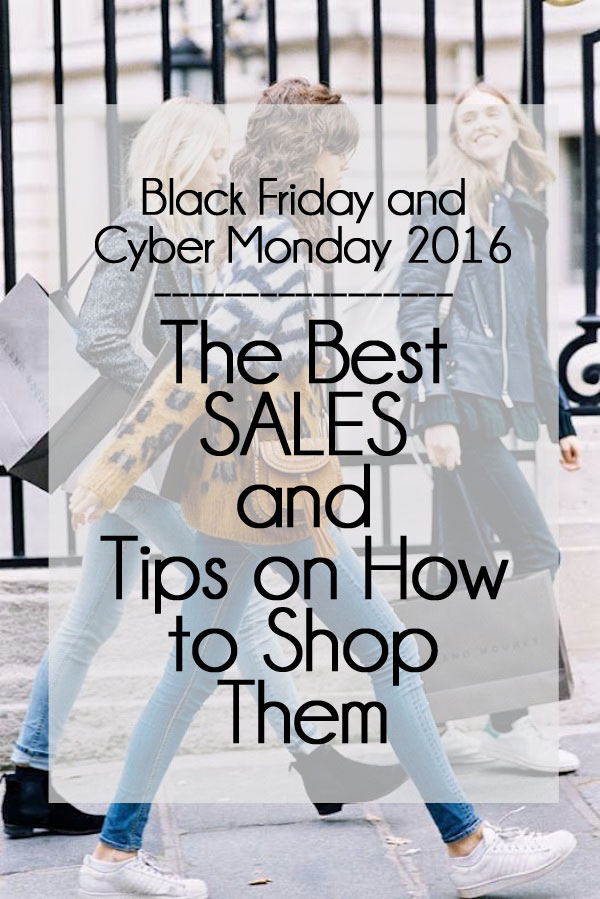 Image: Vanessa Jackman
Tips on How to Shop Black Friday and Cyber Monday Sales
Having spent many years on the retail scene during these wild, crazy days, I have learned from living it and watching it that there are some definite reasons that some people have better results when shopping these sales than others.  The following are a collection of my own thoughts and some of the research I have found by checking with 'the experts' on how best to enter this intense shopping time.
Some Shopping Tips...
1.  Start early. Black Friday and Cyber Monday are no longer isolated days, the field is much more competitive and so, these days have easily become a week. Most retailers both in store and online are competing for your dollars in one of two ways…..starting their sale prices early or extended them later. The informed shopper just has to watch constantly and know when the time is right to actually purchase. It's not uncommon for online retailers to adjust prices within the sale!
2.  Do your homework. Rely on ads that are being run in the newspaper and/or online pre-sale. Also for the stores where you have a loyal salesperson, check with her/him on what they may have coming on sale for you….they know you the best and what you like.  If you are shopping for others (family members, friends, coworkers), please ensure that you have recorded somewhere sizes, favorite colors and in some cases, specific needs. Nothing more frustrating than seeing a great buy on boots in a store and trying to reach your daughter to find out her size and/or color preference or even more so that of your grandchild and no answer on their cell!!!?
3.  Compare prices. If you're shopping for something specific like a big screen TV for the family, a new laptop or tablet or even the hippest new velvet boots. Beware that many of the deepest discounts that stores offer at this time are on exclusive products or private label brands exclusive to them, making that comparison a little tougher. Try Google Shopping as a first place to start and there are many more apps that can assist.
4.  Get social. Try Facebook and Twitter feeds of your favorite retailers as a way to find out about deals and promotions. Bloggers such as myself, have listed (see below), many leads to great promotions with links that will take you right to the various sites.
5. Create a budget.  Easier said than done, I know. However, you should have some idea in your head on how much money you can afford to spend and keep track of what you are spending.  Remember Black Friday is just the kick-off to Holiday Sales and are not always the cheapest prices of the season. There are many more sales to come, so budget and spend wisely. Try to avoid impulse buying, especially if you're not sure of the value of the item. Remember, cheapest is not always best…you may be better off passing on the great deal on a doorbuster and spend a little more time and money on the purchase of a slightly more expensive item. (especially true in TV's) Also, always make sure that you know the store's policies on returns and exchanges just in case that size that you thought you remembered for a loved one may not be quite right,exchange it immediately where may still be a chance to get what you want and avoid the after-the-holiday return saga!
6.  Stay tuned online even while you're shopping. A tip I heard yesterday on the Today Show, was to check the online offerings of a store while you are in it. Sometimes there are some better deals online that you should be aware of and in many cases if you show that and demand it in store you can get that and take it home with you right then. Also, nothing is worse than leaving a store, looking at its online site and finding that there are better deals there!  Remember, Check it!
Our Favorite Sites to Shop the Sales (click store name to head directly to their online site!)
Neiman Marcus – Up to 40% Off Regular Prices
Nordstrom – Early Savings in All Categories
PB Teen – 20% Off Your Order + Free Shipping
Macy's – Extra 20% Off + Free Shipping
Pottery Barn – Free Shipping + 30% Off Various Categories
Topshop – Up to 50% Off
Shopbop – Buy More, Save More – Up to 25% Off Orders
H&M – Up to 60% Off Outdoor, Shoes, and More
Madewell – 25% Off Your Entire Purchase
J.Crew – 40% Off Your Purchase
LOFT – 40% Off Everything
Intermix – 40% Off and New Designer Markdowns
Gap – 50% Off Everything
Old Navy – 50% Off Almost Everything 
Target – Deals in All Categories
Amazon – Deals in All Categories
Barney's – 40% Off Select Styles
Tibi – Up to 50% Off
Club Monaco – Take an Extra 30% Off Sale
TOOTSIES – Storewide Discounts
Revolve – Discounts in All Categories
ASOS – Sitewide Discounts
Anthropologie – Discounts in Various Categories
Sephora – Sitewide Discounts
The Webster – Discounts on Various Items
A Local Shopping Event Not to Miss
There is an incredible event coming up this weekend at Silver Street Studios. It is the Pop Shop Houston Holiday Fest. Friday, 11/25 (11am-8pm), Saturday, 11/26 (11am-8pm), and Sunday 11/27 (12pm-6pm) at Silver Street Studios (2000 Edwards Street) you'll find the biggest art market in Houston, featuring modern handmade craft shopping, art exhibitions, vintage, live art, and art activities, and your pass is good all weekend. Find out more info and purchase passes here.
Don't Forget About Shop Small Saturday
Shop Small Saturday is this weekend, and we love nothing more than supporting local retailers! Some of our favorites include: TOOTSIES, a bientot, Cotton Club, Elaine Turner, Cakewalk Style, French Cuff Boutique, Kick Pleat, Brooke Feather, Abejas, More Than You Can Imagine, Muse Boutique, Blue Mercury, Events Gifts, Kuhl-Linscomb, BB1 Classic, among many others. Be sure to check out the sales going on at all of the great Houston retailers!
What's on your Black Friday/Cyber Monday shopping list this year? Plus any tips and/or apps that you have found that makes this all just a little bit easier!!? Share in the comments below!