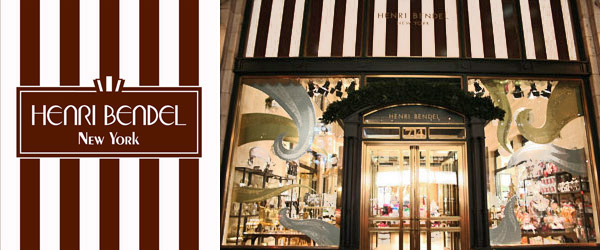 Henri Bendel, famous NYC 5th Ave. retailer known worldwide for its chic brown & white iconic striped everything…décor, packaging of its unique items and coveted shopping bags, is opening at the Houston Galleria, this Friday, July 22nd.
This NYC fashion entity, since it's opening in 1895, has been a personal favorite of mine since my days of living in that great city, and has remained a must see each trip I make there, because its reputation as the retailer of choice for not just the newest in fashion today, but also for a nurturing of new talent and creative ideas, that we may not even know about yet!
The word is that there will be much of the iconic feel of the NYC flagship store, complete with its brown and white striped entrance here in H-town as well.
This quintessential girls' playground will treat Houston's fashion gals to a shopping haven filled with all of the special handbags, jewelry and gifts that make this fashion brand famous worldwide.
To all Chic Sheet readers…..don't miss the fun party being planned for you on opening night. I know I will be there to celebrate their entrance into our city…..(see invite below).