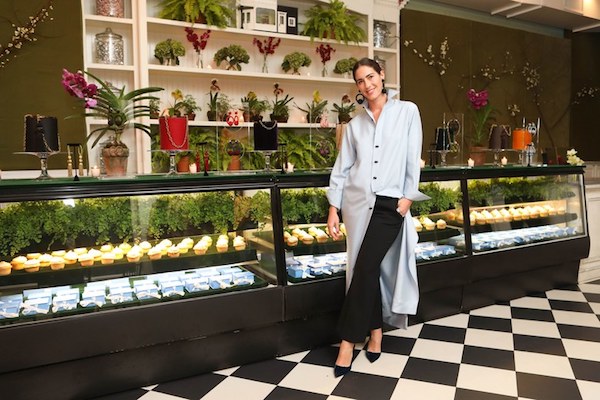 Image borrowed from Vogue/Rebecca de Ravenel
You've likely all seen by now the famous Les Bonbons earrings. They've been seen everywhere. We wrote about them this past summer, and have since loved them. They are simple, yet totally chic and elegant at the same time. Well, we recently heard the exciting news that Rebecca de Ravenel is launching a new collection of earrings PLUS a line of handbags and shirts.
The new earring collection is a take on her Les Bonbons, but this time hoops. Indeed, they are statement pieces, and we love the colors they come in. These will ship in September.
There are two versions of the new line of bags (both expected to ship in August). Both are bucket/cylinder shapes with a tortoise trim and an antique gold chain strap, but one comes in velvet and one in raffia. They are a bit edgy, a bit glam, and seriously stylish.
Finally, there are two styles of shirts – The Short Ming Shirt and The Long Ming Shirt, coming in nine colors. These will be available to ship in August.
You can pre order everything from these new collections on Moda Operandi, and you can see our favorite picks below.