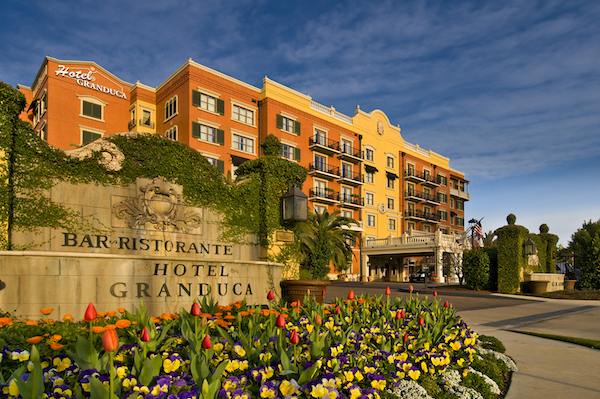 HOTEL GRANDUCA HOUSTON NAMED 1 OF THE 25 BEST LUXURY HOTELS IN THE UNITED STATES
I must begin by saying how proud I feel of our friends, the Borlenghi family, and how through their many developments featuring their classic, old world Italian beauty they have left their stamp on the cityscape of much of our city and now in the Austin area as well.  They are most deserving of this prestigious call-out and recognition of their landmark hotel and I congratulate them on this accomplishment.
Since opening in 2006, Hotel Granduca-Houston has dazzled travelers from all over the world and Houstonians alike with stunning old world Italian surroundings, luxury amenities, and unparalleled services. The upscale, boutique hotel is now garnering national recognition for its unique offerings, securing a spot in TripAdvisor's coveted 25 "Best Luxury Hotels — United States" listing. The noteworthy lineup —which includes coveted destinations from Palm Springs to Las Vegas — spotlights the top 25 luxury hotels with Hotel Granduca marking the only Houston-based property on the list.
"We are very proud and pleased that the extraordinary environment we have created in Houston with Hotel Granduca, together with our consistent impeccable service, continues to be recognized by travelers from all over the world. Being part of the 25 Best Luxury Hotels in the United States is the ultimate recognition that 'my little corner of Italy in Houston' has blossomed into a great amenity for our City and has become a destination to be enjoyed by everyone. Intimate, unique, elegant and sophisticated, Hotel Granduca Houston is the ultimate expression of refinement and understated grace," said Hotel Granduca founder Giorgio Borlenghi.
Reminiscent of a private Italian villa, Hotel Granduca marks the first jewel in the crown of Interfin Hotels hospitality group, the brainchild of luxury Houston-based real estate developer Giorgio Borlenghi. Over the years, the Granduca brand has received a variety of accolades including a spot on Conde Nast Traveler's Gold List, Conde Nast Reader's Choice "Top 15 Hotels in Texas," and a Forbes Four Star rating.
Hotel Granduca is located at 1080 Uptown Park Boulevard. For more information, call 713.418.1000, or visit granducahouston.com.