Premium denim that embraces your curves
If you read any women's media these days, fashion or otherwise, you know that "dressing ALL women" is now the rage!
Even high-fashion guru, Tom Ford, got loads of publicity for his Spring '11 introduction by using his friends as models, just so he could illustrate this point. Women with curves are definitely at the forefront and making headlines, celebrities and women-on-the-street are finally getting their say in all categories of feminine apparel, but it wasn't always that way! That is why meeting and chatting with trendsetter, Cookie Johnson, at Neiman Marcus a couple of weeks ago was such great fun for me.
First, let me say that this is a do-over story for me as I wrote about her launch at Dimensions back in June, 2009. I didn't know much about her line then, but it sounded good. She had teamed up with premium denim trailblazer Michael Glassner from Seven for all Mankind jeans, was the brightest new star in the Magic Johnson household, and had a mission to help women feel good about how they looked and I liked that!
However, when I met with Cookie at Neiman's and actually spent some time with her, we really had fun talking shop (former retailer to former retailer). For those of you who remember the Allied Buying Office in NYC, she was the Dress Buyer there! I understand more than ever why SHE, and her now expanded denim collection, has become such a huge success!
I told her as we finished chatting, that she is truly a TRENDSETTER in the denim business. She told me that the only other person that called her that was Oprah! Could it be that great minds think alike (me and O.W.?)! You can now go into the Gap for curvy jeans, and just about every other premium denim maker has their own version of a jean that fits ALL women. That was not the case before Cookie. I dare to say that her idea, her strategic approach to making it happen and her teaming up with one of the giants of the denim world, set the pace for all other denim makers to follow!
Here are a few points you need to know about this collection and why they work for all body types…
1. First, it happened because she was tired of trying on jeans made for contemporary, boyish figures and like myself, purchased them anyway because she had to be hip and just wore tops long enough to cover that gap in the back when she sat down. (you know that feeling, right…been there, also done that?)
2. She uses two fit models: one is tiny but curvy and one is big and curvy. She covers sizes 2-18 and 24-38 a broader range of sizes than other jeans companies.
3. Her jeans have more room in the thighs and derriere, and come up a bit higher in the back.
4. She uses premium fabrics, and because of her partnership with Seven, they are made in factories that make some of the best jeans in the world, and her denim is soft and pliable. She likes to say "our denim is woven with self-esteem!"
5. She does a JOY Jegging, her 2nd best selling style. Could that be because it's made with 40% super-stretch? They're so comfy, and they fit!
6. She names all of her styles…
GRACE is her boot cut and #1 seller (they are coming back).
FAITH is her straight leg (the style she picked for me, and I love them!).
PRAIRIE is her relaxed jean or boyfriend as we have called them (Oprah's favorite).
FELICITY is her flare (a big trend for Spring '11).
7. She is still bottoms only, but has expanded from her best-selling dark-washed denim to include velvet and corduroy for the holidays, and lots of newness for Spring '11!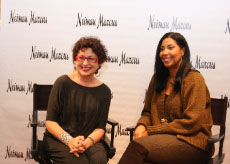 Some hints of Spring '11 denim trends, all of which can be found at Cj: wider legs, flares, trousers, chino-esque fabrics, crops, lots of white, and maybe a few more surprises that they are working on.
In closing, I found Cookie Johnson to be the epitome of today's woman. She's smart and caring, and is committed to other women and their feeling good about themselves and how they look. She made all of us want to try on jeans, myself, the Neiman's staff and other media visitors, and we bought! Also, the women who came there for her meet and greet were mostly wearing her jeans to show their support. For someone building a business, it doesn't get much better than that! Check out www.cjbycookiejohnson.com for more details and info of where to buy. Carried at Neiman Marcus and Nordstrom's nationwide, as well as Dimensions.