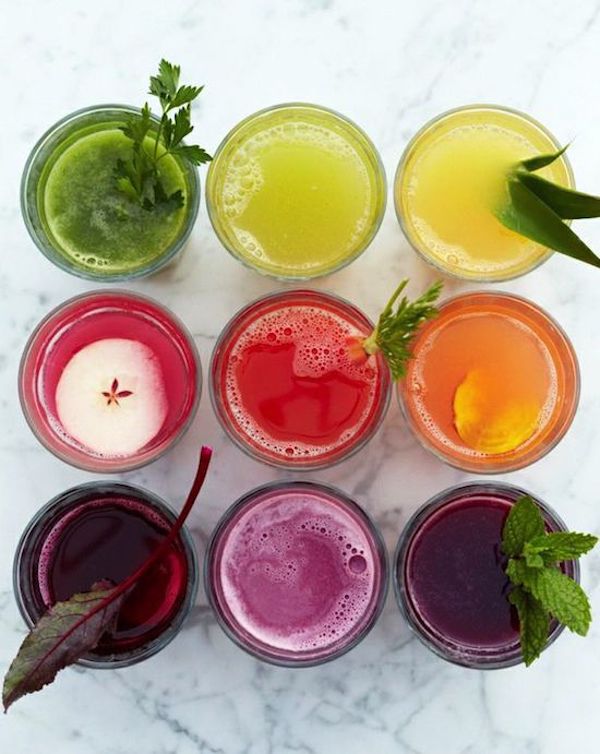 A new year means new resolutions. For many of us that starts with a better diet, more exercise and in our case, juicing. Beth here, and for those not fully well versed in the practice of juicing, the folks over at Juicing for Health have a few tips for beginners.
What exactly is juicing? Juicing first gained notoriety in the 1970's and generally refers to the extraction juice from fresh fruits and vegetables through squeezing, hand pressing or a juicer.
Whether your hope is boosting your immune system, detoxing after the holidays (don't worry we are guilty too!), or just getting into shape, we decided to help get your inner juicer in gear, giving you a round up of some of the top juicing/cleanses trending right now and some tips on where to get some of the freshest ingredients in town if you are going to try this on your own.
CLEANSES
Duration: 3-5 days
Cost: $99-$119 total
We love this easy to follow and easy to use entry level cleanse that can be started anytime. Each of the three beginner options offers the whole cleanse purchased at once, which is a great way for beginners to get into the juicing game.
Duration: 1,3 and 5 day cleanses
Cost: $75 per day
With options like Green Lemon, D-Tox and The Master (made of lemon, Purified Water, Raw Agave, and Cayenne.), this cleanse aims to reset your system and is the perfect way to kick of 2018.
div>
Duration: Varies
Cost: $75 per day
Urban Remedy offers six cleanses, one of the a soup cleanse.  Each of the six cleanses offers six different juices per day and word has it their Glow will actually leave you glowing.
Duration: Varies
Cost: $65 per day
Juice Press also offers a soup cleanse, but most people are fans of their original 6 juices per day cleanse, formerly known as "The Standard". Offering mid-level sweet green juices, spicy citrus, and coconut milk, this cleanse is easy to follow and easy on the taste buds.
MAKE AT HOME
BUY IN STORE
If you are not interested in a full cleanse, and simply don't have time to juice yourself at home, Houstonian's are lucky we've got some of the following places around town to pick up your daily juice dose.  Even if you sub your coffee here and there (we all cheat a little!), this is still a great way to get your fruit and veggies!
The Heights, 3206 White Oak Drive, 832-433-7831; Montrose, 1340 White Oak Drive, 832-487-9914; Kirby, 5310 Kirby Drive, 832-426-4401
Shop for all your juicing essentials below!