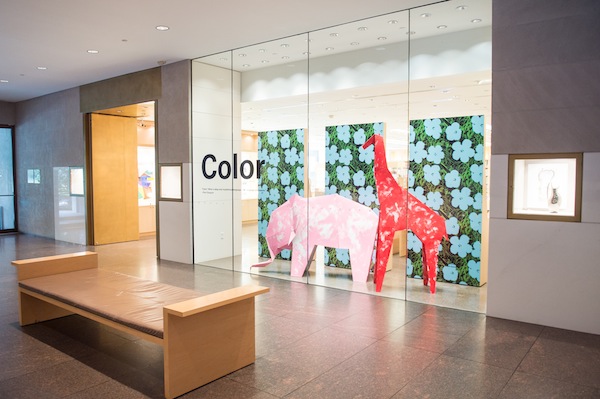 MFAH Shows off it's new facelift to its Museum Gift Shop(now called MFA Shop) by introducing it's inaugural seasonal theme…….COLOR!  This theme dominates the product point-of-view of the newly renovated shop in the Audrey Jones Beck Building.
Ever since our friend, Chris Goins made the move to General Manager of Retail at the Museum of Fine Arts Houston Gift Shops, we have been waiting to see the finished product and new approach to merchandising that was promised by Museum Director, Gary Tinterow, a while back.  This past week Chris took us on a tour of the new shop and new point-of-view of presenting product in the newly updated space. What we heard and viewed was a very well thought out strategy that makes nothing but good sense for all of us that have enjoyed shopping at what has been a 'best kept secret' in town where that title should no longer apply.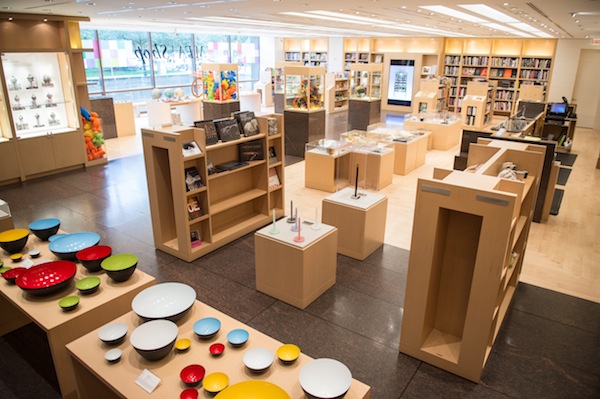 The first approach to the shop was to 'open it up'……a point made several times by both Chris and Gary.  Inventories were reduced and curated, with purpose to bring more of the experience of the museum into the shop(they have installed an 85″ monitor in rear of shop that constantly loops many of the items that are being featured in museum exhibits),  have a definite point of view and focus unique purchases each season to a theme…..this opening theme being COLOR, that is very dominant in the store today.  Their over-riding goal was to bring beautifully designed pieces from all over the world at prices that were affordable to the average museum shopper.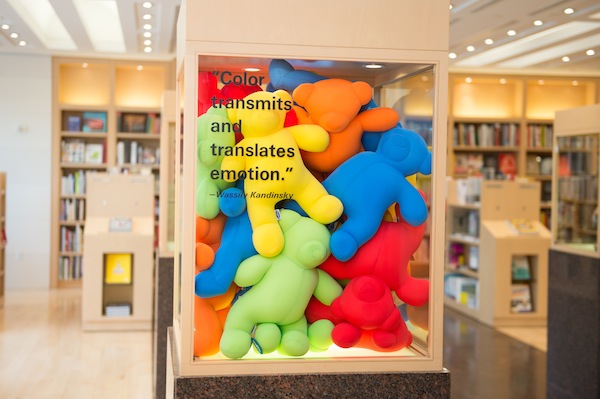 After lightening up much of the fixturing in the space to allow for the amazing architecture and design of the shop to be seen, four dominant display vitrines were placed in the center that feature the trend of the season…….there is no guessing by viewing the above and below photo that COLOR is what they want to talk about here!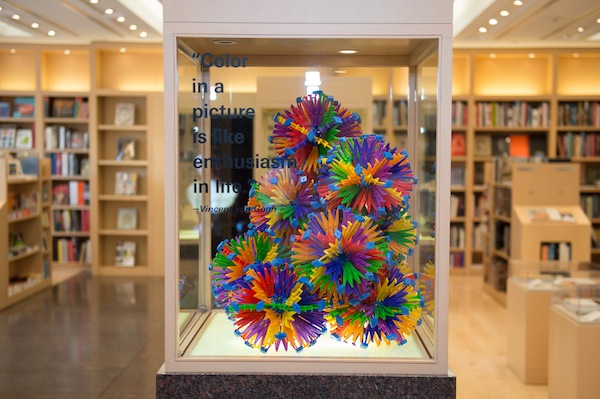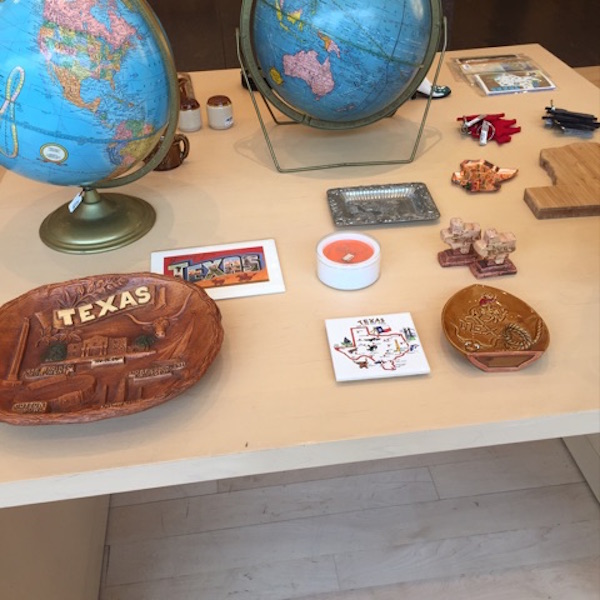 Another mini-theme within the shop that Chris went looking for from suppliers were items that fell into the Texas theme. As she explained to us, of course, the Museum is a major tourist attraction and having products available for people to take home as memorabilia of their visit here they felt was essential.  However, you can rest assured that this is not your airport shop items, but very special pieces, like a Texas-shaped cutting board, made where-else but in Brooklyn!?!!!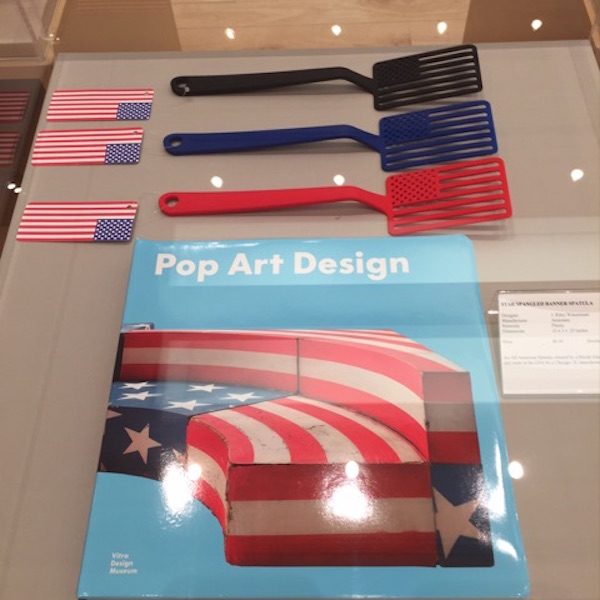 There are also low plexiglass vitrines, again, keeping the openness of the shop in mind, that are clustered in front of the rare books section that are merchandised, each to a special theme, such as this patriotic above, where you can purchase such every day objects as inexpensive spatulas that make fun, unique giftables.
In the Gold case, who doesn't need their own 'gold slinky'….another fun gift idea.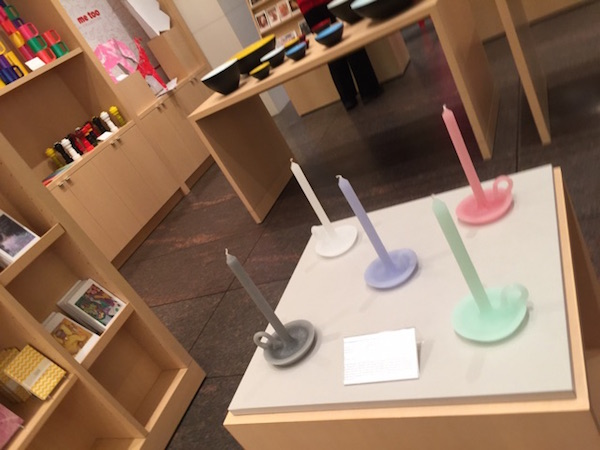 Fun giftables continue…..I favored this wax candle and holder, another inexpensive but unique item.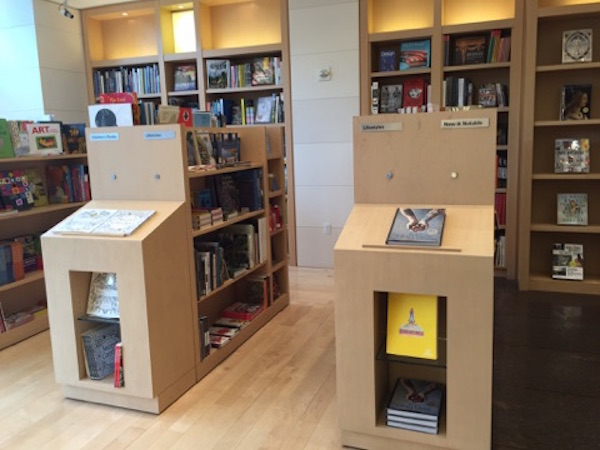 One of my favorite areas of the shop has always been the books that are now more clearly organized and easy to find….they have even provided lecturns at the end of the rows to browse thru books of interest.  The collection of 3-4,000 titles are easily defined by the selections which relate to exhibits in the museum, to its many outreach educational programs and just fun or factual reading…take your pick!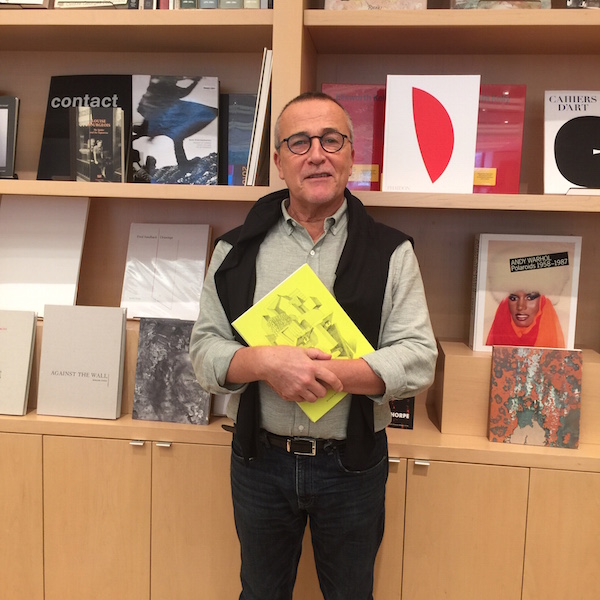 Bernard Bonnet, book buyer for the Museum Shop since it opened in 2000, brings 25 years of book purchasing from Paris with him to his position, making for 40 years experience at book purchasing with a very refined area that has now become a feature of the shop.  His expertise on rare and out-of-print books makes this section  a highlight of the shop.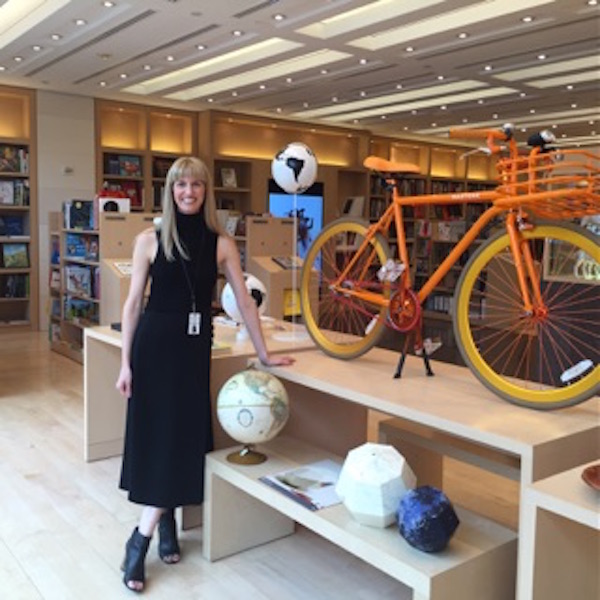 Chris posed for us in one of the most talked about sections of the newly renovated shop.  The collection of both new and vintage globes is an area that she wishes to expand upon and keep hunting for new items…..after all, 'the world keeps changing' says Chris and its awesome to look at these subtle differences.  She highlights the Corona black and white globes by Nendo.  However, the star attraction of this section and of the shop's entirety is the wonderful Martone bike on display in the color orange.  This bike which changes colors seasonally, is a stand-out to their color theme and also the priciest item in the shop at $1400, all inclusive, complete with basket. Also in aqua and purple and can be ordered and delivered in just days in the states or internationally out of London.
Overall, the newly renovated shop has a distinct and innovative look and feel.  There are many categories that I haven't even mentioned such as the Italian glassware collection, the boldly colored plastic mugs and more holiday appropriate items due to hit the shop as we speak.  It should be checked out to see and to be amazed at so many awesome items that can offer your gift recipient such style and for you such value!  Happy Holiday shopping is truly present at the Museum of Fine Arts!
Location:                         MFAH, Audrey Jones Beck Building, First Floor
Hours of Operation:   Open same hours as Museum, Tuesday thru Sunday