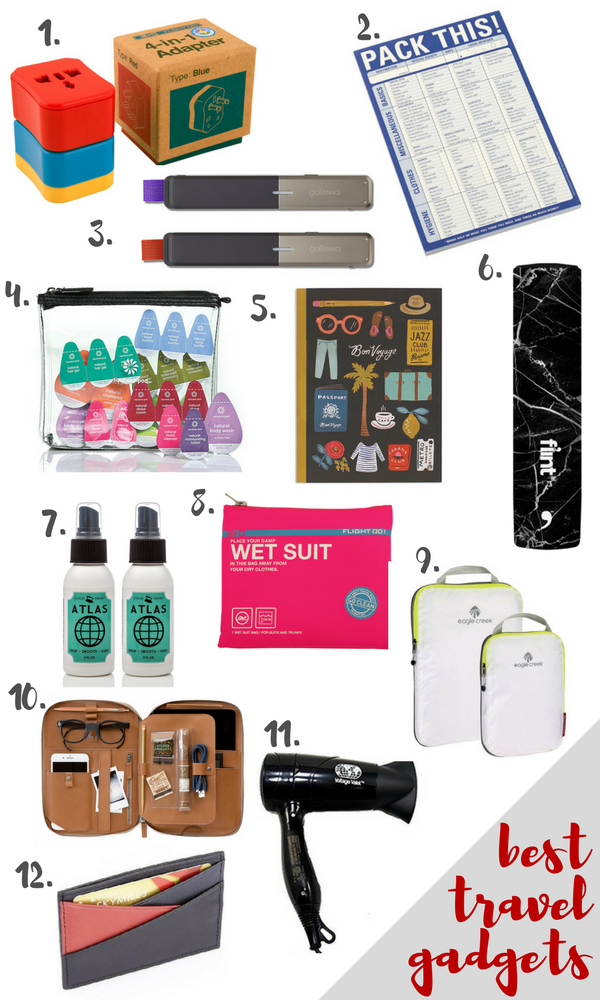 Summer is here which means summer travel is fast approaching!  With travel comes packing! Is that anyone else's least favorite thing to do? It definitely brings a bit of stress, but packing smart makes a big difference.
Julie chatted with you about packing for a long weekend here, but what about those extended vacations where you need a few more essentials? It's Alyssa here! Whether you are road tripping across Route 66 or planning a multi-city European vacation, these are some of the travel gadgets that are essential for any long vacation.
Click on the red links below to make shopping for these items a breeze!
1. 5 in 1 Adapter Box Multi: A universal-travel adapter is a must-have for international travel and this colorful version is sure to not get lost in your hotel room. (Don't be like me and forget one of these and then have to buy a new flat iron in a foreign country!!)
2. Pack This! Checklist: Organization is key when packing! I tend to way overpack on useless things and not pack enough of the types of clothes I actually wear (I almost always forget a toothbrush too), but this "Pack This!" list is a life saver.
3. goTenna Off-Grid Text & GPS: If you plan on going "off the grid" on your summer vacation, this tool is your friend. goTenna allows you to send texts and share GPS locations when there's no cell coverage or wifi available. (Again, don't be like me and get lost in the middle of a forest in Austin, TX with no cell service and no clue where my car is parked.)
4. Squeeze Pod On-the-Go Toiletry Kit: Single-use, leak-proof pods of conditioner, shampoo, body wash, sunscreen, lotion, and shave cream. No muss, no fuss!
5. Rifle Paper Co. Travel Essentials Journal:  Keep a record of all of your adventures in this stylish journal.
6. Flint Lint Roller: – "The world's first retractable, refillable lint roller." It's not only compact, but comes in cute colors like rose gold and marble print!  I don't know about you, but dog hair seems to follow me everywhere, even when I go on vacation! This will definitely be in my suitcase from now on.
7. Atlas Wrinkle Release Spray: Don't waste your precious vacation time using the hotel iron or WAY overpay on the in-hotel dry cleaning. This spray reduces wrinkles in minutes! This formula is also plant based, TSA-approved, and smells like orange blossoms!
8. Flight 001 Go Clean Bag: Don't let a wet swimsuit stop you from taking one last dip in the pool at the end of your vacation! These Go Clean bags are water-resistant and keep  your wet clothes separate from the rest of the items in your suitcase.
9. Eagle Creek Pack-It Compression Set: If you have to overpack…overpack efficiently! Fill a bag, zip the interior zipper, and close the compression zipper to make it compact. These are also perfect for suitcases that don't have any pockets or compartments, like Rimowa, one of the hottest vintage-style luggage brands!
10.  MOD CONNOISSEUR: The perfect organizational tool for the traveling creative!  10 pockets for your tablet, phone, cards, and money and 5 slots for cords, pens, pencils, notebook, and headphones…all in one sleek case.
11. Voltage Valet 1875 Watt Travel Hair Dryer: This hairdryer folds in half AND has duel voltage for use anywhere in the world!
12. Leather RFID Theft Protection Credit Card Wallet: Don't be a victim of identity theft (not trying to scare you but much of that happens in airports!)! Take extra precaution when traveling by using an RFID Theft Protection Wallet. RFID chips are embedded in your passport and bank cards, and can be read by a scanner that is held close to it. Avoid this by using an RFID wallet – this card case contains a strip of aluminum that interferes with the radio waves from a scanner and keeps your identity safe!
Editors Note: As I packed for this Italy trip, I ALWAYS travel with this, Maxboost Power Strip International Travel Adapter Kit. You can plug all your devices into one strip and then it converts for US/UK/AU/EU/JP.  So cool and convenient.  You should definitely get one of these!
What are your favorite gadgets when packing for a vacation?