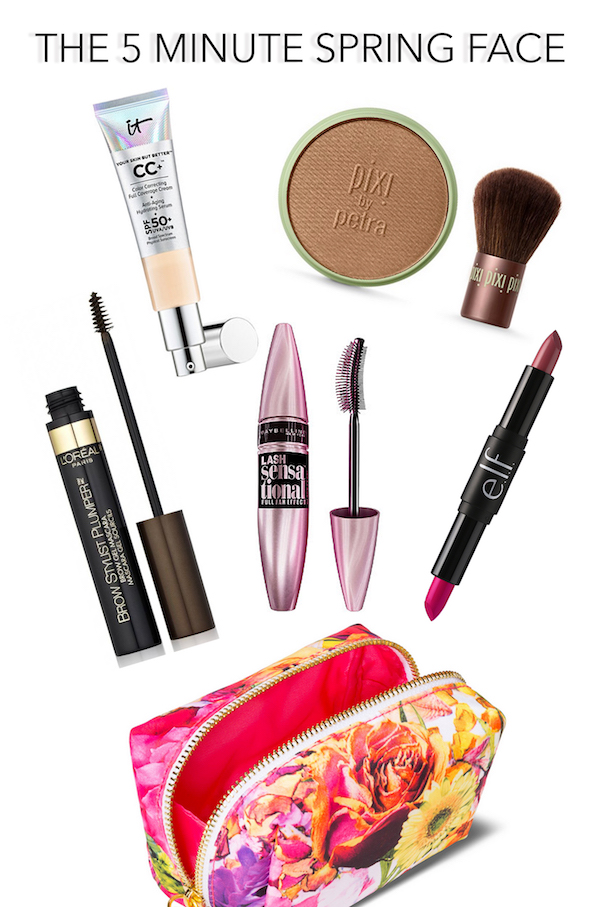 It's Nicole from Lipstick and Brunch here to share some more of my beauty secrets.  There's nothing I love more in the morning than doing my make-up and I could sincerely spend hours perfecting my lipstick or unclumping my mascara. But, since finding out I was pregnant, the fatigue has obligated me to cut my make-up routine time in half! I also feel that I'm preparing for how my life will be once the baby boy arrives and I'll literally only have 5 minutes to put my face on! The following beauty products do a phenomenal job at hiding any skin flaws, brightening up my eyes and making me look sunkissed in this beautiful Spring weather. So whether you're a tired expecting mama like me or are a busy mom, I hope you find these products helpful and make them part of your own beauty bag.
This product is one I can't talk about enough. It has anti-aging serum, SPF50 and the most full coverage I have ever seen in a product of this kind. Place a dime size amount on your favorite buffing brush or apply using your clean fingers on your whole face for a healthy skin look–no one will suspect you're using make-up.
A sun-kissed look in the Spring is essential and bringing warmth into your face with a bronzer makes you look healthy and youthful. The key is to apply the bronzer while blending really well (start off with little product and then build up if desired) in areas where the sun would naturally hit your face like your hairline, hollows of cheeks and under your jawline. This hydrating and silky smooth bronzer from Pixi is my number one pick this season.
No polished make-up look is complete without the perfect eyebrows. Ever since I discovered this product I keep buying it because it makes the process of combing and tinting out my brows so easy and foolproof. The smaller mascara-like brush contains micro-fibers to make brows look fuller easily diminishing the appearance of any sparse spots in your brows.
Many women forget to highlight their eyes when doing their make-up but let me let you in on a little secret: curling your lashes and applying mascara can make you look awake and fresh instantly! What if I told you this mascara curls and tints your lashes in one step? Apply two to three coats per eye from root to tip and don't let it dry between layers.
Finish off your look with this dual-ended lipstick in the shade "I Love Pinks" which has a mauve-pink shade which gives your lips a natural punch of color suited to wear throughout the day. If you want to intensify look for date night, layer with the deeper shade on the other end. The creamy formula and vanilla scent in this lipstick really makes for kissably soft looking lips and is currently an essential in my purse. Can you believe it's less than $6?