As many of you prepare to get out of town for Spring's first break-away adventure, why not turn to accessories designer, Elaine Turner for  global inspiration as she takes you through her Spring Collection to far away lands.  Global Travels, as she has called her seasonal trends, crosses all accessories categories, and took its inspiration from Elizabeth Taylor, whose adventurous spirit and exotic glamour sparked Elaine's creativity to produce mini collections that exude feelings very much aligned to Africa, Marrakech, Greece and Italy.
The Shoe collection offers woven flats, brightly colored jelly flip-flops, embellished thongs, printed wedges and elegant heels (my fave is her linen shimmer).  If you're poolside, strolling a sandy beach or attending a spring soiree, there's a shoe for every outfit in this collection.
In looking through her stores, her look book and her website, there are just so many great choices, editing was difficult.  So I have chosen to focus in on her bright, bold color, looks that are so on trend and are a shout-out to Spring as the weather, at least in Houston, is indicating it is fast approaching.
Pink, Resort/Early Springs' biggest color (a natural for E.T.)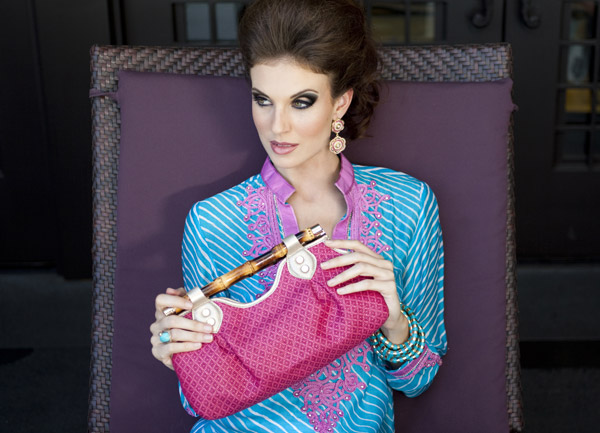 (Hot pink raffia clutch….important color, important handbag style)
Pink continues in fun, flirty sandals, large totes that make for Pool Glam….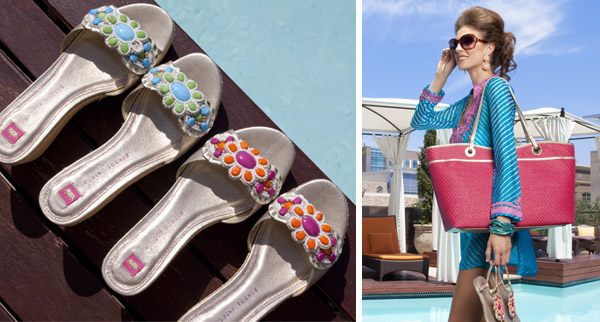 (Straw is an important accessory trend for Spring, Color makes it an attention getter by any pool!)
Jelly flip flops…..

(got to haves, in several hues, every imaginable color and only $58)
Print trend in hot colors for sandals

(Hot ikat prints on wedges in multiple heights; great with shorts, skirts & dresses)
Giveaway for The Chic Sheet Readers….

(Inspired by Elizabeth Taylor, free to a lucky TCS reader……just LIKE myredglasses fan page on FB and leave me a comment that you did it and you will be entered in a drawing for this awesome bag, available in natural or a darker raffia, you choose!)
Africa/Sahara Dessert was inspiration for Elaine's neutral and exotic trend styles…..to see these great looking, more dressed up styles, click on the E.T. video below or visit her website, www.elaineturner.com……you're in for a treat!
CHECK YOUR INBOX FOR A SPECIAL INVITE TO ELAINE TURNER & THE CHIC SHEET EVENT AT ELAINE'S CITYCENTRE LOCATION;  MARCH 6, 6-8 P.M. BENFITING…..I AM WATER FOUNDATION…FIRST 50 ATTENDEES WILL RECEIVE A $35 GIFT CARD FREE!
Elaine Turner available at many locations nationwide.  Locally at Elaine Turner Boutiques, CityCentre and Rice Village, Tootsies and Neiman Marcus or online at www.elaineturner.com.