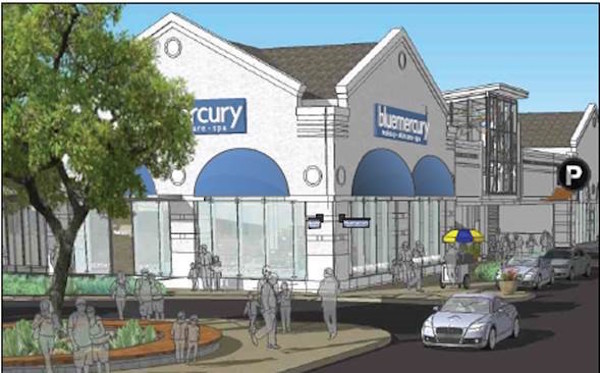 Rendering of the soon-to-be-open first Houston free-standing Bluemercury beauty luxury retailer, currently slated for April 29 opening in Houston's Rice Village District
For those of you that follow MRG regularly you will remember that just less than 90 days ago, I was on here telling you about the first Shop-in-Shop that Bluemercury was opening in Macy's Memorial City store ( see that story by clicking here) and that very soon, Macys, which is now sole owner of all Bluemercury stores, both free-standing and in-store, would be following with their first free standing store in Houston's Rice Village area.  Well, that time has come.  As the Rice Village is my 'hood' and very much on my radar, I have been passing by regularly and after looking in this weekend and actually seeing fixtures in store, I know that the opening is close by.  They are saying it is 'slated' to open on April 29th and withstanding any weird delays to the store and/or the surrounding street areas, which are part of the overall upgrade of the center, they should be making that date. How very exciting for this area that I know so well!
I am thrilled that soon, so many of my friends that are Rice Village shoppers can soon experience this chic luxury beauty and spa destination. It has a prime location at 2506 University Blvd. right on the corner space in the center of what is very much a walking destination for many of its shoppers.  So it is important to note that there are many new and very hip stores that are in close proximity to Bluemercury such as Athleta, Kit and Ace, St. Cloud, Urban Outfitters to name just a few of my favorites. For those that are unaware, Rice Village District has been going through a re-positioning and renovation that will be bringing many new fresh, new-to-market retailers and restaurants to the district that has already begun and is bringing much excitement back into the area.  The renovation will include new parking technologies, as well.  In doing all of these enhancements, Rice Village Manager, Donna Molho has stated, "we're confident shoppers will embrace the new Rice Village."
When I met co-owners, Barry and Marla Malcolm Beck at the Macy's opening, we chatted briefly about this new location and I told them then how thrilled I was and that everyone would be to have them in 'the village' as it is best known in Houston.  Barry's comment was, "I have been watching the Texas market for years. The Houston clientele is one of the most chic I have seen in the country, with a sense of style and fashion that's akin to that of our New York City customer."  As someone who interviews most designers that come into Houston, I must say that I hear that a lot and am very excited to be able to have all of the great vendors and products that Bluemercury stocks (Laura Mercier, Nars, Trish McEvoy, Moroccan Oil, Oribe and many others) so easily accessible in one place, right here in the center of the city.
Stay tuned to My Red Glasses for confirmation of the opening date but as of now, you can mark your calendars…..April 29th will be here before you know it and let the beauty begin!
BTW: in case you are not completely aware of Bluemercury since it's not been in our area for very long, here are some facts:  Founded in 1999 by Harvard Business School graduate, Marla Malcolm Beck and her husband Barry Beck, it is headquartered in Washington D.C.  It is the nation's largest and fastest growing luxury beauty retailer and spa in the country. Bluemercury carries a carefully curated selection of luxury brands in a neighborhood store where welcoming, expertly trained and knowledge staff offer supreme product knowledge. It was acquired by Macy's in 2015, with sole purpose to expand the brand.