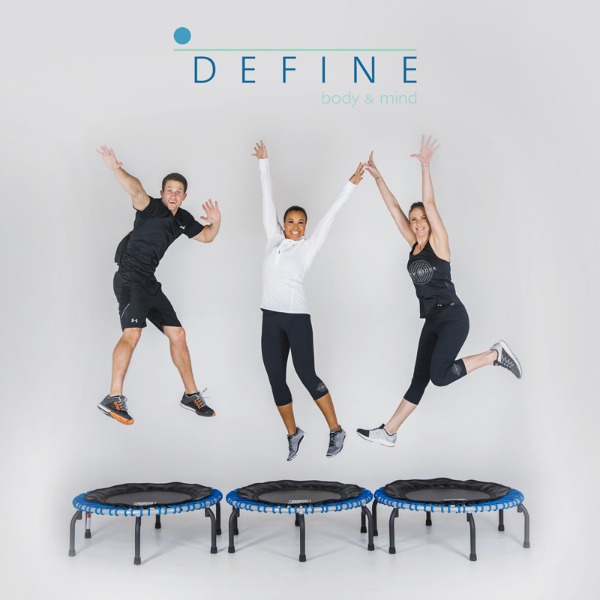 It's Alyssa here talking to you about one of Houston's best gyms, DEFINE: body & mind, and their newest class Bounce. DEFINE is known around Houston for their incredible Revolution (Spin), Body (Challenging combo of pilates/yoga/barre), and Mind (Yoga) classes, so I was very excited when my coworkers suggested we try out this new class.
This 45-minute class is a combination of cardio and weights, either on or using a TRAMPOLINE! It will make you feel like a kid again. You walk into the studio with trampolines in rows around the room, grab dumbbells, pick your spot, and get going. I have never see so many fit women in my life! You start out with a warm-up "bounce" to get your heart pumping and work your way up to sprints and various jump combinations, while jamming to pop and 80s music of course. The movements were quick and included twists, touching your elbow to your knee, jumping jacks, in and outs, boxing, and a little bit of salsa. I was not blessed with good coordination, so these moves were tough for me, and I was never on beat (slightly embarrassing). You then do weighted lunges and squats, bicep curls and rows, and push-ups, all while using the trampoline as added resistance. You end the class with a short stretching session/nap and a few relaxing yoga poses.
Henry, the DEFINE founder, was our instructor and I honestly would not have been able to keep going if it weren't for him! He is so positive and has amazing energy.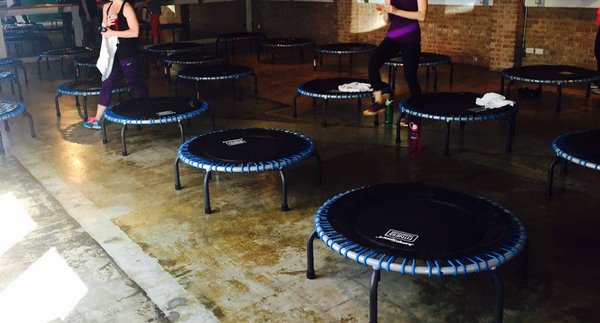 I am an occasional runner and lover of weight training, so I thought I was prepared for what this class would entail. Lets just say, this class kicked my butt! My motto after it was over was that "If I can do this class, I can do anything!" BUT, it is one of the most fun workouts I have ever done and I burned a crazy amount of calories – so it was worth it!
One of the best things about this class is that it is very low impact, even more so than running on a treadmill. Unless you fall off of the trampoline, (which I didn't thank goodness) it is not a painful workout at all! You will be sore afterwards though, but it is the good kind of sore that makes you feel proud of your hard work.
Lucky for you, DEFINE bounce is now a class on the regular schedule – every Tuesday/Thursday at 12:15 and Friday at 8:30am at the DEFINE: Montrose studio.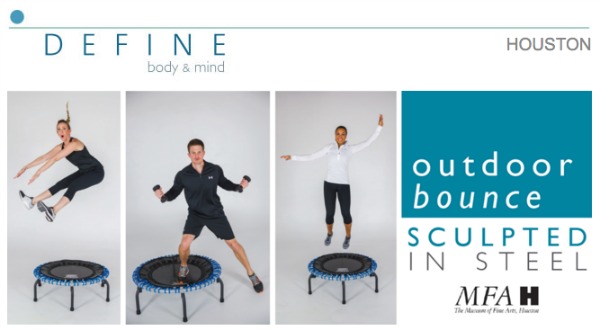 This Saturday they will be hosting BOUNCE outdoors at the Museum of Fine Arts. The class is inspired by the new exhibit Sculpted in Steel: Art Deco Automobiles and Motorcycles, 1929–1940.
You must sign up to reserve your trampoline! $35 admission gets you the outdoor bounce led by Henry, after workout snacks from the MFA Café & DEFINE foods for purchase, and admission to the Sculpted in Steel exhibit.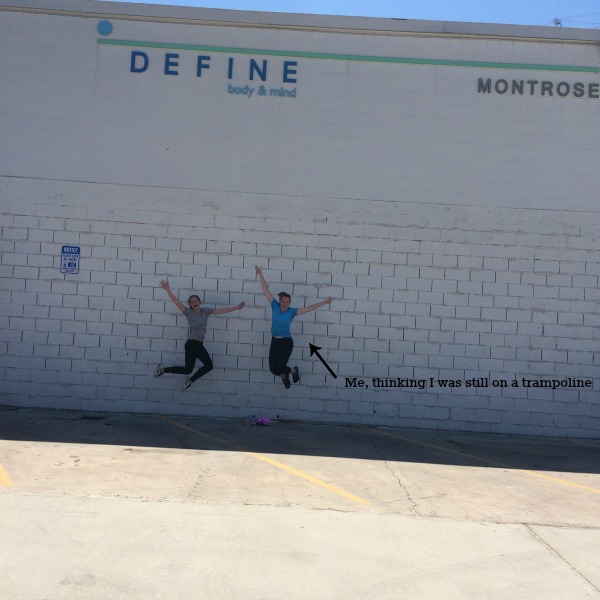 We survived!
 Have a great weekend and we hope to see you at the Define Outdoor Bounce this Saturday!